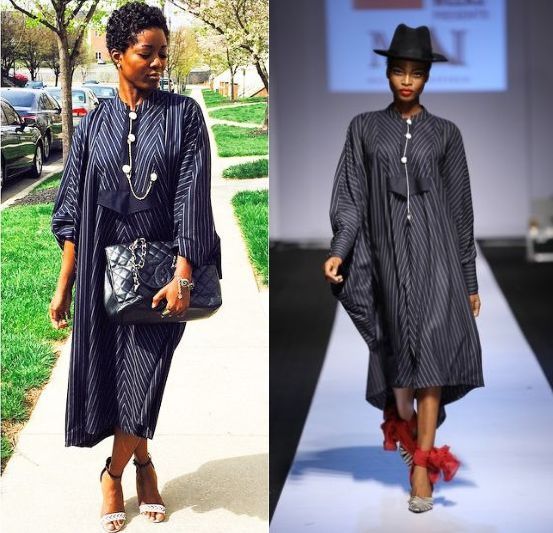 Rising singer/songwriter Tonye has been making her fashion rounds lately. From rocking various Nigerian designers such as ReBahia, Wana Sambo, Kiki Kamanu, Sisiano, Iamisigo and more, the act is definitely showing her patriotism for Nigerian brands.
Speaking of patriotism, her latest fashion statement has got people talking. While in DC, Tonye stepped out in a black pin-striped Mai Atafo shift dress that has a striking resemblance to a certain President's regular attire. The interesting piece is from the fashion brand's 2014 collection which was showcased at the 2014 GTBank Lagos Fashion & Design Week.
The South-South-inspired shirt dress features a gold chain & button detail and puffy sleeves all constructed on a pin-striped fabric.
She clearly loves her look and shared a couple of photos on her Instagram page. She commented on her photos saying – "One of my favourite people and favourite designers!!!!! Wearing @Maiatafoinspired I never have to try too hard!!! Everything he makes is already a STATEMENT. Heading out to DC…". She also added hashtags like #GEJ #southsouthrepping  #southsouthprincess.
She paired her dress with tribal print-inspired shoes, her signature pixie and a black Chanel clutch with gold chain detailing.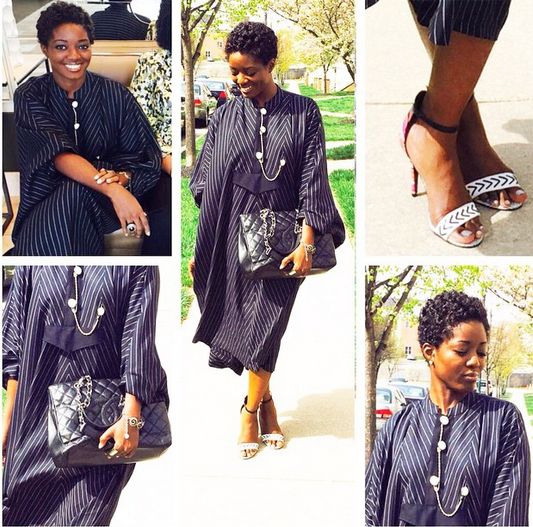 We think her look is different and is definitely on with the traditional menswear-inspired womenswear trend. But we have to ask, are you loving her look?
Photo Credit: @WhoIsTonye (Instagram)