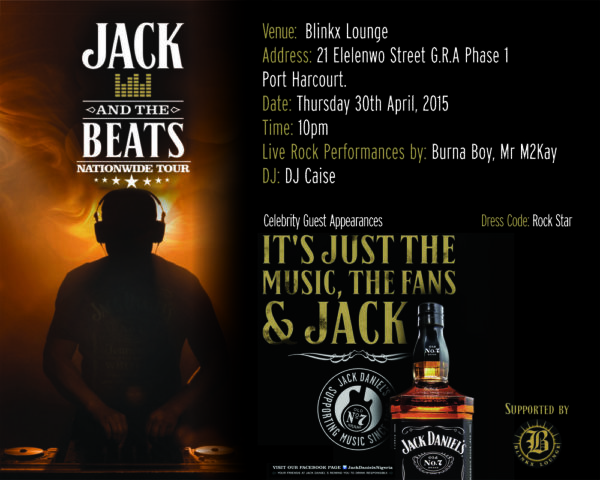 The Jack and The Beats tour which started last week in Ilorin and Ibadan with Olamide, Vector, Lil Kesh now moves to other states with M.I, Burna Boy, Phyno, Reminisce, Mr 2Kay and DJs Humility, Neptune and Caise.
The parties scheduled to hold in 4 states in three days with a grand showdown in Lagos are a prelude to the #Jackandthebeats parties set to hold throughout the year.
So if you want the #Jackandthebeats experience, check dates below for your cities and get rocking.
ENUGU
Date: Wednesday 29th April, 2015
Venue: Orange Room Lounge
Performances by: M.I, Phyno, DJ Neptune
PORT HARCOURT
Date: Thursday 30th April, 2015
Venue: Blinkx Lounge
Performances by: Burna Boy, MR 2Kay, DJ Caise
BENIN
Date: 30th April, 2015
Venue: Club Novonia
Performances by: M.I, Reminisce, DJ Humility
ABUJA
Date: Friday 1st May, 2015
Venue: Caribbean Lounge
Performances by: M.I, Vector, DJ Neptune
Your friends At Jack Daniel's remind you to drink responsibly.
_________________________________________________________________________________________________
Sponsored Content