Producer/musician Don Jazzy has spoken!
After a fan, tried to 'call him out' for not addressing Oba Rilwan Akiolu's statement, the 'Don' replied respectfully.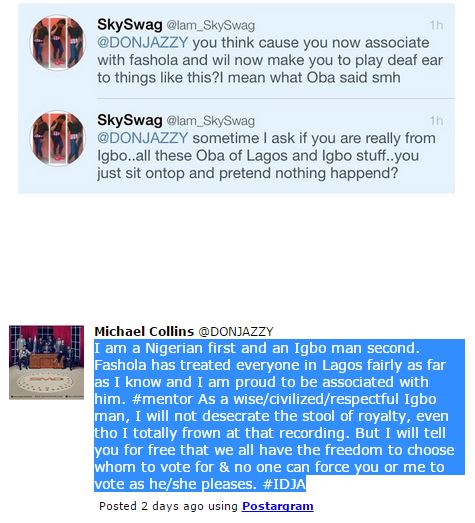 Here's the transcript:
I am a Nigerian first and an Igbo man second. Fashola has treated everyone in Lagos fairly as far as I know and I am proud to be associated with him. #mentor As a wise/civilized/respectful Igbo man, I will not desecrate the stool of royalty, even tho I totally frown at that recording. But I will tell you for free that we all have the freedom to choose whom to vote for & no one can force you or me to vote as he/she pleases. #IDJA"
He also added a conspiracy theory to the mix, saying the Oba of Lagos wants PDP to win and made the statements deliberately, to sabotage APC.
#WhatIf Oba actually codedly wants PDP to win? And is counting on us reacting to his statement. #Justasking o

— Michael Collins (@DONJAZZY) April 7, 2015
Cos he said he is related to JK. hmmm blood is thicker than party o. lol oya make i run.

— Michael Collins (@DONJAZZY) April 7, 2015