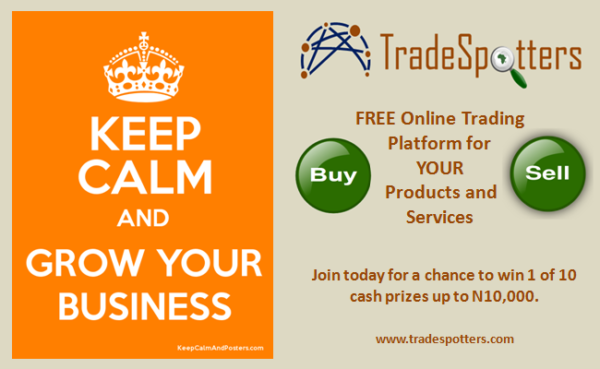 Can your business benefit from a cash infusion? Click HERE for a chance to win 1 of 10 prizes up to ₦10,000 cash when you sign up as a TradeSpotters member. TradeSpotters is an online trading platform that was developed specifically to help Small and Medium sized Enterprises (SMEs) grow their businesses in Nigeria.
As a business owner, you probably know that an online presence for your business is an important factor for business growth. Let us help you take your online presence to the next level by providing a platform that allows you to showcase your business and connect to Nigerian customers for FREE.
Join today and start to grow your business with TradeSpotters. Sign up as a Seller by Friday May 8th, 2015 and you could be 1 of 10 winners of up to ₦10,000 cash. See the complete contest rules here.
Here are some features of the TradeSpotters platform:
Ability for Sellers to advertise their products or services
Ability for Sellers to post special offers or discounts
Ability for Buyers to post requests for products or services
Ability to send messages to Buyers or Sellers directly (Buyers can negotiate posted prices directly with Sellers)
 Ability to verify Seller's address, phone number and CAC registration number
Ability for Buyers to provide feedback on their experience with Sellers
For questions, feedback, or suggestions related to the site, send an email to support(at)tradespotters.com
Connect and Trade
TradeSpotters
www.tradespotters.com
Image source: www.keepcalmandposters.com
__________________________________________________________________________________________________
Sponsored Content