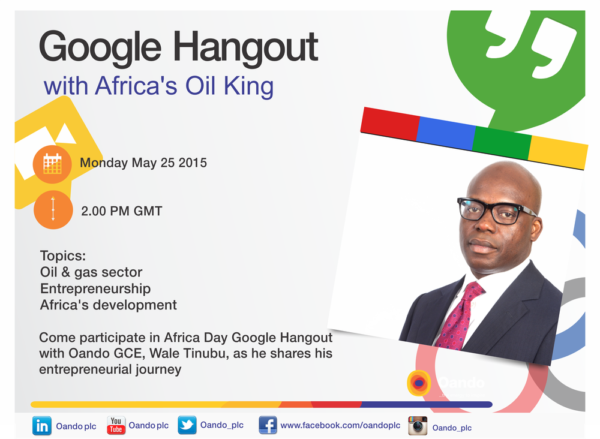 As Africans gather around the world to mark this year's Africa Day, Group CEO of Oando Plc, Wale Tinubu, is set to host a Google Hangout with the next generation of African CEOs, entrepreneurs and employees.
On May 25th, the global date for celebrating 'Africa Day', Wale Tinubu's Google Hangout discussion will cover the following key areas:
His journey into entrepreneurship
Growing Oando into one of the leading oil and gas companies in Africa
Lessons learnt and recipe for success
Views on business entrepreneurship trends in Nigeria
Date: Monday May 25, 2015
Time: 2 PM GMT
RSVP: Free, to be a part of the event, click HERE.
Follow @Oando_Plc for more information about the Google Hangout! Use Hashtag #Beaudacious #AfricaDay to join the conversation.
Africa Day is an annual global celebration of unity and development on the continent initiated on May 25, 1963 to commemorate the founding of the Organisation of African Unity (OAU).
_______________________________________________________________________________________________________
Advertorial – Sponsored Content