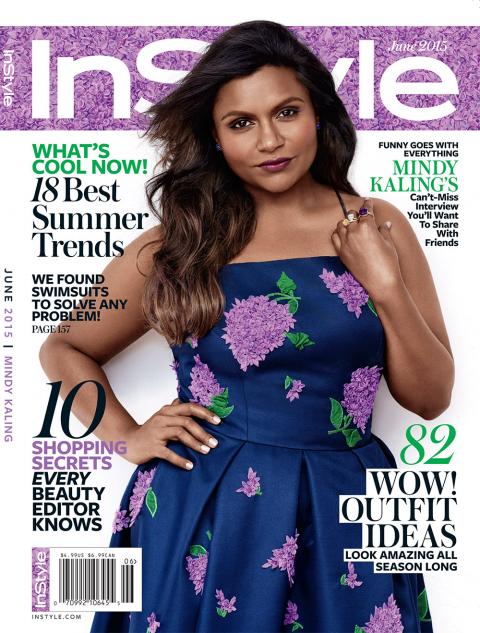 Mindy Kaling is the cover star of the latest issue of InStyle magazine as she looks pretty and ready for spring in a gorgeous dress by Michael Kors.
Mindy Kaling was photographed by Bjarne Jonasson in Malibu for the shoot.
The 35-year-old actress, who had her show 'The Mindy Project' cancelled recently talks to the magazine about marriage, kids, losing her mum and more. Read excerpts from her interview below.
On her relationship with B.J. Novak: "I will freely admit: My relationship with B.J. Novak is weird as hell. He is not my boyfriend, but he is not my best friend. I guess you could describe our relationship as a 'romantically charged camaraderie with loud arguments,' but I don't think Facebook would accept this as a new status."
On her mother's passing: "I'll be honest. I don't think the way that I've dealt with my mother's passing has been ideal. I was very lucky that the show started up at that time so I could just throw myself into it and distract myself. But the truth is, even though it's been three years, it still feels like it just happened. I remember the sound of her voice so distinctly. One inadvertent thing I've learned from her passing is that anything bad could happen to me professionally, but it would not be worse than one sad weekend. The experience of losing my mom was just so much worse than anything that could happen to me workwise. I could lose all my money, and I would be like, It's fine."
On marriage and kids: "I don't have a particular urge to get married, but I do know with certainty that I want to have kids, because my relationship with [my mom] was so special."
For more on Mindy, visit InStyle.com!