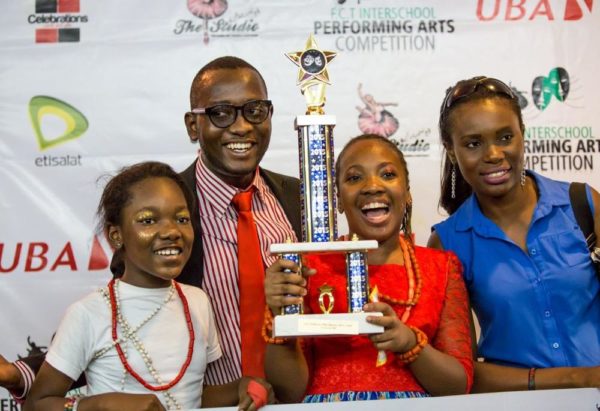 A well-rounded education for children should encourage a mix of dance, drama, music, and other arts. It is with this aim that The Performing Arts School of Nigeria/The Studio Abuja, initiated The FCT Interschool Performing Arts Competition – to celebrate and foster the development of the performing arts culture in Nigerian Schools.
The 2015 competition (second edition) was supported by the United Bank of Africa (UBA), Etisalat, and Celebrations Cards and Gifts. The competition took place on the 23rd of April, 2015 at the Ladi Kwali Hall of the Sheraton Hotel and Towers, Abuja.
The event featured a host of Abuja based primary and secondary schools competing in dance, music and drama performances with a chance to win up to N800,000 towards their school's Performing Arts Department and bragging rights towards next year's competition.
The judges panel was comprised of select experts from renowned cultural organisations; Golda Obi, Alice O'Reilly and Robert Kerr who were joined by celebrity guest judge, actor and director Ramsey Nouah held with the distinct task of analysing the performances and deciding the winners.
The event was hosted by the fantastic radio host and MC; Matilda Duncan who managed the time and the audience impeccably and with lots of humour.
Apart from the winning prizes, the kids (and some adults) went away with gifts. The Celebrations Gifts and Cards stand were a card making competition was meant to hold was a favourite as everyone wanted one of the many attractions they came with as prizes for the competition that they eventually just gave them out for free with only very few actually making a card. Not to be left out, Etisalat also had a pop quiz session where loads of Etislat branded items were won in addition to Easy Clique Lite Tabs.
The performances themselves were a joy to behold and were duly appreciated by the full house who had come out on a Thursday afternoon to support these kids.
WINNING SCHOOLS
Primary School Category:
1st Place- The Centagon School
2nd Place- Nigerian Turkish International School
3rd Place- Lordswill Academy
Secondary School Category:
1st Place- International Community School
2nd Place- American International School, Abuja
3rd Place- Glisten International School
Contact: [email protected] | Twitter: @thestudioabuja | Instagram: @thestudioabuja | Facebook: The Studio Abuja | Website: www.thestudioabuja.com
_____________________________________________________________________________________________
Sponsored Content