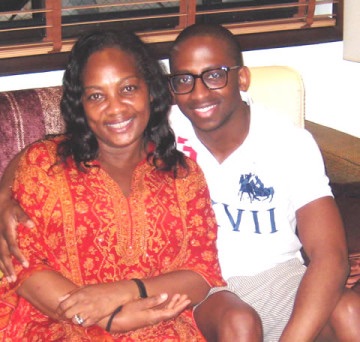 Bankole Cardoso, son of Dr. Stella Ameyo Adadevoh is speaking out about his mom's last moments following her courageous part in the Ebola Epidemic.
His interview is with Punch Newspaper's Arukaino Umukoro. In it he talks about the impact of her death, her love, her likes and dislikes and so much more.
Read excerpts below:
His background: My name is Bankole Cardoso. I am the son of Dr. Stella Ameyo Adadevoh. I am an entrepreneur. I was born and raised in Nigeria. I went to Boston College in the US for my undergraduate degree, where I studied Business Management and Accounting. I worked with PriceWaterHouse Coopers in New York. After that, I worked in a private equity firm called the Carlyle Group, in the US. I've been back in Nigeria for about two years now and I launched a company called Easy Taxi in Nigeria.
On the last time he saw her and her last words: The last time I saw her face-to-face was the day I went to the centre to give her her footwear and her iPad. She was physically very weak. This was someone I had never seen fall sick in my life. But then, she was physically very weak. I took all the stuff to her and put it through the door, she had to go and collect it because I couldn't go into the room. We spoke through the window, I was crying. But she was adamant, she said, "Don't worry, son. This thing is not going to kill me, but I am very proud of you." Those were the last words she told me. This was about 10 days before she died. The WHO doctor, Dr. David, told us that it was only a matter of time (before she died), that we should expect the call the next day or in the next week. We were waiting for the call. But he kept telling us that it was a matter of time— it was worse than receiving the actual call.
On her encounter with Patrick Sawyer: The actual story was that when this man (Sawyer) flew into Nigeria from Liberia to attend a conference, he fell ill on his arrival and was taken to First Consultants because the general hospitals were on strike. When he got there, he was first treated for malaria on a Sunday. That weekend was my dad's 60th birthday and my mum wasn't in the hospital. We were all at home celebrating. On that Monday, she went to the hospital and saw him. Immediately, these were her own words to me, she said she was very disturbed, because it looked as if blood was seeping through his skin. She said she knew it was not malaria. When she asked him where he had been and he said Liberia, she immediately suspected it could be Ebola.
Interestingly, three months or so before, we were just watching the news when she said, "Nigeria is not prepared for Ebola." Back then, she immediately did her research on Ebola, noting that Nigeria needed to be prepared if there was an outbreak. She printed those papers long ago. So, when this man came, she immediately suspected; although at the time, she didn't have any positive result that it was Ebola. The Liberian officials there were very furious and said she must release him, claiming that she was holding him against his will; and she had kidnapped him. But she said she could not let him leave the hospital for the public good, and he must stay there because she suspected he had a haemorrhagic disease which was infectious.
On how it affected their family: It was incredibly stressful. I hardly saw her at the time because she was always busy at the hospital, with government officials and the World Health Organisation officials, and also having to care for this sick patient. She got home at 3am every day, and was up by 7am. I couldn't see her for about three days and with the Ebola disease, one couldn't predict the outcome. My dad and I went to the centre at Yaba every day, but we were not allowed to come close to her. At first, we could come close to the window to see her, but eventually, we were not even allowed near the window. I didn't see her for about 10 days while she was in there.
On what he has learned from his mother: I wrote down the five main lessons I learnt from her— how to be a good person, because she cared for everybody. There is a disabled man on our street who came around every Sunday. She bought him a wheelchair, and she always gave him money and showed him care. She also taught me how to be incredibly strong, and how to get things done. If she wanted to do something today, she got it done. She taught me how to enjoy life, she loved enjoying life, and she enjoyed it to the fullest. Also, she taught me the importance of faith because faith is the bedrock of life.
On feeling anger at Patrick Sawyer: I was angry at him, I was angry at God, I was angry at many things. But one had to channel it into something positive like the health trust. And that's what I'm dedicated to and focused on now, full time. Like we would always say, if my mother was here now, she would have forgiven him (Sawyer). I can never forget what happened, it's going to be a part of my life forever, but I forgive him. My dad also feels the same way.
Photo Credit: Punch