When it comes to getting ready for a star-studded event, celebs tend to spend a few extra bucks to make sure they shine the brightest. But when it comes to Kim Kardashian-West, it's go big or go home!
Reports have surfaced that in preparation for fashions' big night, the reality TV star spent over £13,000 (Approximately N2,933,510 Million) on skincare days leading up to the event.
The mom of 1 and Kanye West's wife was keen on looking her very best for the New York event and made daily visits to her dermatologist in Beverly Hills.
A source told Glamour Magazine SA that Kim wanted to steal the show with her body so she splashed out big bucks on cellulite-busting treatments, a £3,235 course of body contouring treatments to firm up her bottom, bottom-boosting injections worth £380 a pop and facials. "She usually visits her dermatologist Dr. Harold Lancer every couple of weeks, but in the run-up to the Met Gala she was going daily. She had a £600 enzyme facial, a £500 chemical peel, intensive collagen facials setting her back £1,000 and she spent over £1,300 on fillers and injectables."
That's not all she had up her sleeves, or lack of. She made a special request of the designer of her dress – Roberto Cavalli – to remove some of the embellishments on the dress so it could be more revealing and "outshine everyone at the Met Ball".
Well she definitely achieved what she set out to. Her dress was one of the most photographed of the night.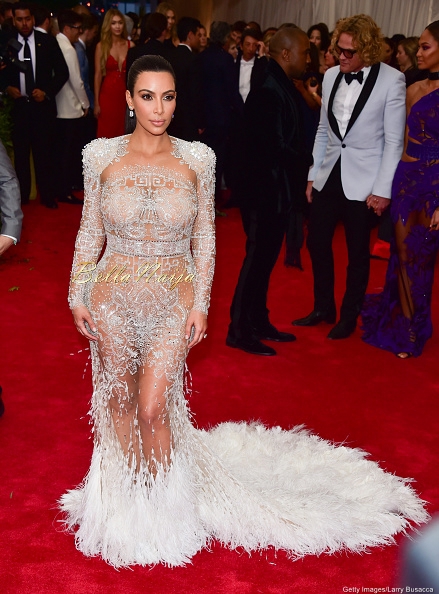 What do you think BellaNaijarians – too much? Or if you have it spend it?
Photo Credit: Getty Images/Mike Coppola | Larry Bassacca