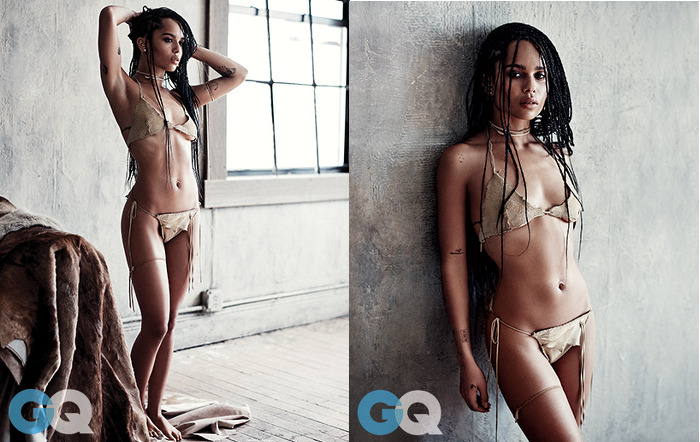 Hello Miss GQ!
Actress, Zoë Kravitz looks hot and tribal for GQ's latest issue in a stone-age themed two-piece sprawled over a skin rug and striking sultry poses. The issue has Chris Pratt on the cover.
In the issue Zoë dishes on acting for the love of it, once again addresses her eating disorders in the early years of her life. She told GQ – "It's so much work. But let's be real: I'm not doing this for the money."
She stated – "I think it's important for people to hear that people within the industry feel that, too. I will always compare myself to the beautiful blonde bombshell with huge boobs. It's the name of the game." However, she has since moved on from her eating disorder and is even taking on a role where she plays an anorexic model. She had told People magazine earlier in the year – "I'm coming into a place where I'm trying to love myself more and not let that affect me. This is the way I'm made and this is it, so I'm going to go with it."
Well we love her figure and her braids suit her so much.
Watch behind-the-scenes of the shoot below;

To see more from the issue, visit GQ.com.