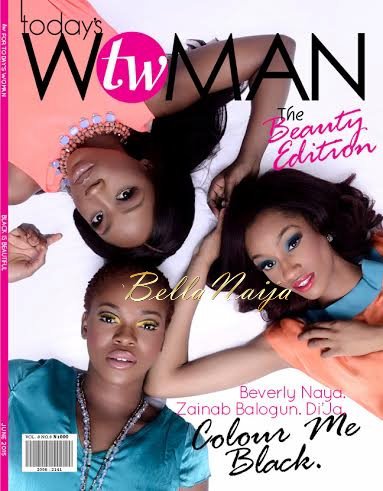 It's a bevy of beautiful ladies for TW Magazine's June Beauty Edition with model & TV host, Zainab Balogun; Mavin Records member, Di'Ja & Nollywood actress Beverly Naya!
According to the magazine;
Beautiful, intelligent and talented with stories that inspire. The 3 starlets were chosen not by chance but for the spectrum of their complexions. These women's stories of some level of discrimination in some quarters because of their skin colour; their growth, success and physical appearance, sends a powerful message that beauty indeed, comes in different shades.
Also featuring in the issue are celebrity stylist & producer, Ifan Ifeanyi Michael, who is making a transition from fashion to movie making. In his interview he talks on the hard life lessons he has learnt, and the making of his debut film "Lotanna".
TW also has award winning Gospel singer – Rachel Kerr; Beauty & Art Photographer – Ari Labadi & Bimbo Shittu, the co-founder of Gidi Culture Festival. That's not all – you can also look forward to their fashion editorial with 12 pages of boudoir-inspired looks featuring My Style alumn Cassie Daves, and there's loads of beauty and makeup trends that will inspire you.

tw Magazine is out now for N1000 only! You can also get tw on your iPad or iPhone, download the free app here! 

Go further and connect with tw Magazine via their official website: http://www.twmagazine.net, Facebook, Twitter and Instagram | Send an e-mail to [email protected]
Cover Credits
Photography: Moussa Moussa (Instagram: @IAMMoussaMoussa)
Cover Story: Ifeyinwa Ojekwe (Instagram: @LoveIfeyinwa)
Makeup: Bimpe Onakoya (Instagram: @BimpeOnakoya)
Stylist: Veronica Odeka (Instagram: @VeronicaOdeka)
Hair: Ricky Enik & Tayo from Rikkie's Salon
Wigs: Kayp's Perucas