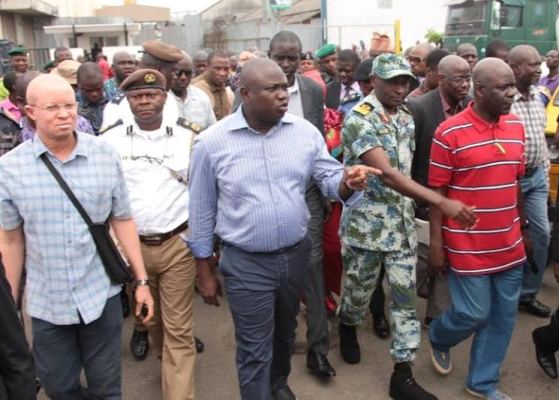 Lagos State governor, Akinwunmi Ambode on Thursday visited Apapa-Oshodi expressway to assess the cause of the horrible traffic gridlock plaguing the area.
Petroleum tanker drivers frequently park their vehicles on the road while attempting to access the port and tank farms located within the axis, Vanguard reports.
Ambode, was accompanied on the tour by top officials of the state government and security agencies.
Speaking on the situation, he said:
"What we have done in the last three hours is trying to find out what are the issues that partain to Apapa. We've all seen that the gridlock in Apapa is multi-faceted. We have examined things that relate to activities of trailer and tanker drivers.
It is totally unacceptable that we would be having tankers and trailers on our bridges. It is also not acceptable that they would decide to block all lanes that lead to Apapa. We've also seen that we must do something immediately to alleviate the challenges that the residents and business owners are facing.

But again, you'll also realise that the roads that lead to Apapa Wharf and Tincan Island actually belong to the Federal Government. We've come to this Tin Can Bridge, it has been under construction in the last six years, we've also seen a trailer park that can actually contain about 500 trailers at a time that has been abandoned by the Federal Government.

What we want to do now is firstly to appeal to the Federal Government and most especially Mr. President that the contractor working on this particular bridge should come back to site and once we are able to open the trailer park, we would be able to allow other trailer and tankers to use the park."
The governor also threatened to sanction erring tanker drivers who park indiscriminately on bridges and roads in Apapa. He said a special task-force team will be set up soon that will ensure free flow of traffic in the area.