It's not just another edition of BN Bridal Beauty, it's a special one!
Ifeoma Adefemi of iPosh Looks, took Instagram by storm with this makeover of albino model, Chinwe, AKA Albinorella.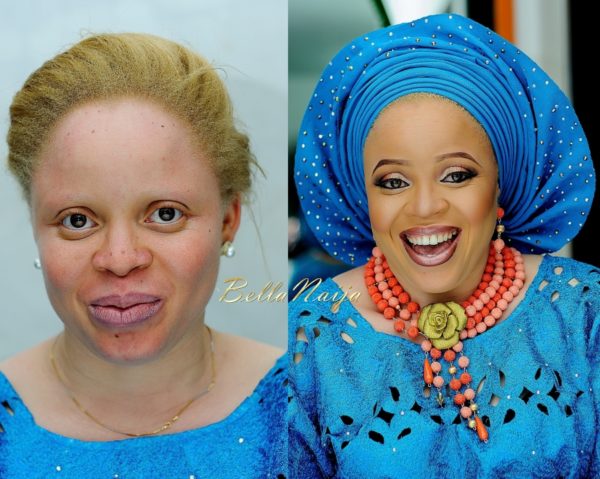 Today, Ifeoma tells BN Weddings how she was inspired by her model's confidence, and the impact the shoot has had.
"I stumbled on Chinwe's Instagram page and was thrilled at how she lives her life to the fullest. She had this confidence around her and to really be honest I was tripped!

She always says this statement that I am yet to get over about being albino, "I AM JUST ANOTHER SHADE OF BLACK!"

She loves herself and so I asked myself, "How can I encourage her, make her feel extremely good and also encourage others?" I sent her a direct message telling her I was a big fan and offered her a makeup treat, which @Herthesir_Concepts and @JasBeadsNJewels helped out with on very short notice.

I have never done makeup for an albino before, so for me I was taking up a challenge/making a damsel really happy. She was sceptical of the outcome and to be honest I was also scared. I was even afraid to upload it on my page, but I found the courage to, and I'm glad I did.

Afterwards, Chinwe sent me a message saying I made her touch lives. She has been getting calls from mothers with albino kids and she indeed feels the shoot was really more than just a shoot."
We agree – Ifeoma's inspiration is to our delight today as we present the two different looks – a rich maroon which made the model look regal, and a warm blue tone, accentuated by corals.
Makeup Artist: @iPoshLooks
Model: @Albinorella
Aso oke: @Herthesir_Concepts
Beads: @JasBeadsNJewels