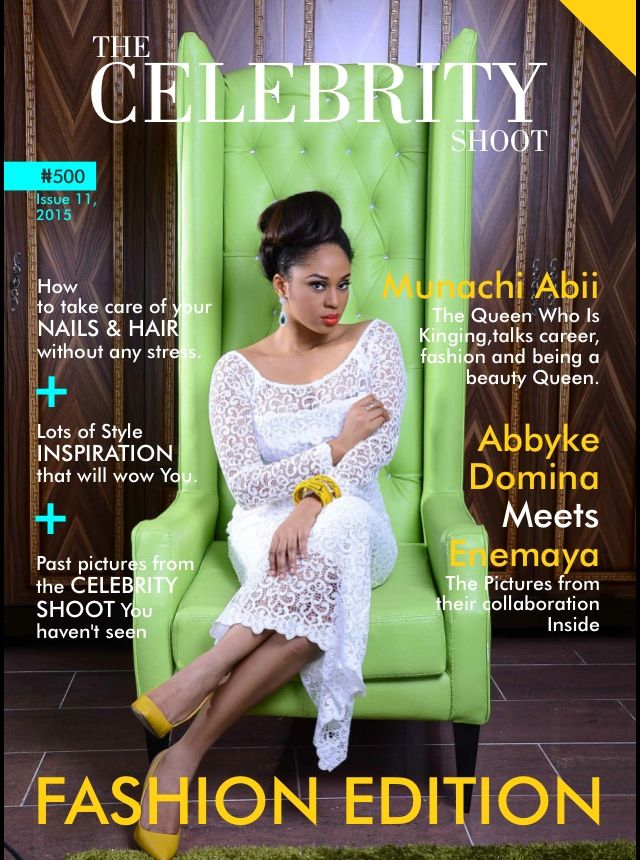 Fashion designer, Abbyke Domina is here with a brand new edition of her magazine – The Celebrity Shoot; and for this edition they're shooting 2 Queens in 1 Mag!
Ex-Beauty Queens – Rapper, Munachi Abii & Designer, Ene Maya Lawani are the focus for this edition and they are looking fab. Muna is the cover girl dressed with white & sitting pretty; while Ene is featured in a new collaborative segment of the magazine titled 'Abbyke Meets Ene Maya'.
Munachi gets personal in the feature giving advice to her fans on following her dreams. She says;
"My advice to anyone that knows how it feels to be restless about their talent is this: Do note be afraid. Nobody can make you or help but God. When it is time, it will all come together. Do not make decisions when desperate. Believe that God will make a way, and leave the rest. Do not listen to people, only follow your heart, no experience is a waste. Have fun with your talent, it is not supposed to feel like work. Do it with love, not for money. The money will come, believe in yourself, know that this is who you are and make peace with it! And most importantly, keep going."
She also shares some of her favourite fashion items, her most embarrassing fashion moment and more. Be sure to grab a copy from your local vendor from next week.
Abbyke Domina Meets Ene Maya
The designers – Abbyke & Ene Maya, feature in a collaborative feature with Abbyke's chic dresses and Ene's fab head pieces. The photos were shot at The Polo Avenue.