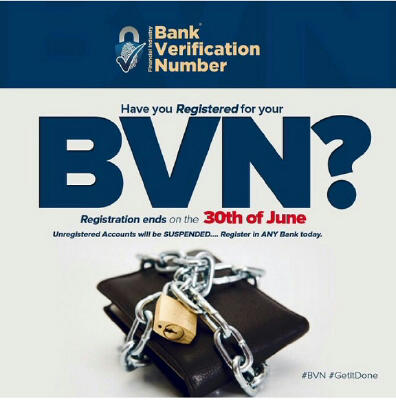 Bank customers, mostly traders within Onitsha and its environs, thronged branches of commercial banks to meet the deadline of the Bank Verification Number (BVN) registration.
The Central Bank of Nigeria (CBN) had fixed June 30 as the deadline of the exercise which started in March 2014.
A correspondent of the News Agency of Nigeria (NAN) who visited most banks in Onitsha metropolis on Tuesday, observed a large number of customers queuing for registration.
NAN reports that the number of customers undergoing the process was more in old generation banks compared to their new generation counterparts.
Some of the customers on the queue complained that the process was to slow due to internet connectivity problems; they, therefore, appealed to the CBN to extend the registration period.
Nnamdi Okoro, a businessman, told NAN in one of the old generation banks, that most of the customers had arrived the bank as early as 8 a.m., but only a few had completed the exercise at about noon.
"All other process of the exercise had been smooth except the actual biometric and fingerprint capturing as well as confirmation from the system,'' Okoro said.
Donatus Ezike, the Secretary, Plastics and Allied Products Market, Onitsha, appealed to the CBN to see the need to extend the exercise in order to accommodate millions of people not captured before the deadline.
"I must commend the bank staff for their wisdom to communicate their difficulties to us, the customers; but it is clear with this difficulties that the CBN should see the need to extend the date,'' Ezike, who banks with an old generation bank, said.
Tony Chukwurah, a staff of one of the new generation banks, said that customers had been given more than enough time to do the exercise as most banks had put out advertisements to reach their customers.
Chukwurah, however, expressed the hope that the CBN would extend the date to accommodate those who had genuine excuse for not participating in the exercise before now.
"This would be an eye opener for Nigerians to take civic and public exercises serious as it ought to be,'' he said.
NAN reports that the CBN introduced the BVN registration to check banking fraud associated with multiple account operation by an individual with different names, addresses and other identities.