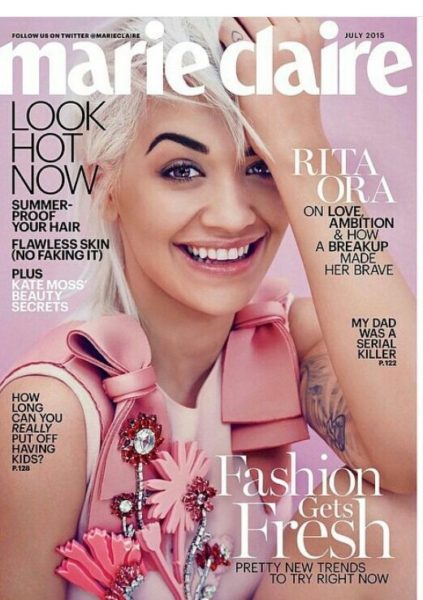 Rita Ora is opening up about love and life in the July 2015 issue of Marie Claire magazine.
The 24-year-old pop star talks about her relationship with Calvin Harris, her current projects and more.
Read excerpts below.
On playing the house diva behind the turntables while her parents thought she was going to a sleepover: "I would rip my T-shirts and be really punk and not clean. And I would have blonde hair, really dark eyebrows, red lipstick, lots of fake rings that made my fingers go green. I wouldn't be smelling that great…. But me and my friends, we were really, like, rebel-y. I feel like I lived a lot when I shouldn't have."
On dating: "I'm afraid of being alone… I'm not afraid to admit that, you know. I'm not embarrassed to admit that. I just hope it's not a never-ending cycle. Sometimes love just makes you feel crazy. And that feeling that we have as girls, just to have that feeling, even for five seconds, it's like crack. I mean, don't compare it to that, but you know what I mean. It's like comfort eating."
On her breakup from Calvin Harris: "There was a reason why I split up with him. And there was a reason why I'm at this point in my life where I feel like I have so much musical freedom, and I don't have to explain myself to anybody… It was more of a thing where I was in awe. I was at that point in my relationship where I felt he could do no wrong. I thought he had my back and that he'd never steer me wrong. But then 'I Will Never Let You Down' came out, and everything started to go a bit weird. I don't know if it was because business was mixed with personal or what."
For more from Rita, visit MarieClaire.com!