And the weekend is here again! It's time to take a break from work, go clubbing, hangout, do fun stuff, and yes go to the movies. It's also the second day of the fast for our Muslim friends. From all of us at Tripican, we say Ramadan Kareem!
As always, we bring to you new flicks opening at the movies this week.
Entourage
Movie star Vincent Chase, together with his boys Eric, Turtle, and Johnny, are back on – and back in business with super-agent-turned-studio head Ari Gold on a risky project that will serve as Vince's directorial debut. Things get out of hand when the project goes over budget, leaving the boys at the mercy of the cutthroat world of Hollywood.
Rating: R
Genre: Comedy
Cast: Adrien Grenier, Kevin Connolly, Jerry Ferrara
Director: Doug Ellin
The Guest
A string of mysterious deaths leads a teenager to become suspicious of a soldier (Dan Stevens) who showed up on her family's doorstep and claimed to be a friend of her dead brother.
Rating: R
Genre: Action, Mystery, Thriller
Cast: Dan Stevens, Sheila Kelley, Maika Monroe
Director: Adam Wingard
Jurassic Park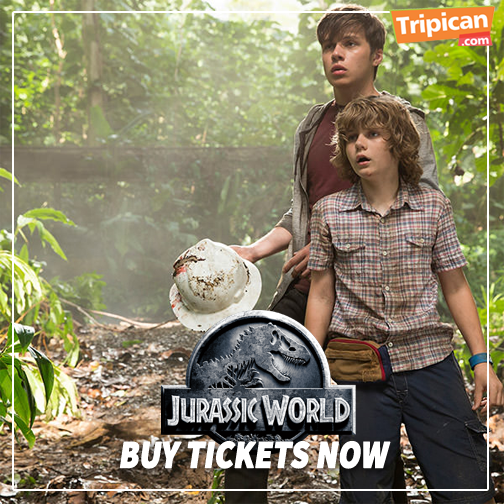 Twenty-two years after the events of Jurassic Park (1993), Isla Nublar now features a fully functioning dinosaur theme park, Jurassic World, as originally envisioned by John Hammond. After 10 years of operation and visitor rates declining, in order to fulfill a corporate mandate, a new attraction is created to re-spark visitor's interest, which backfires horribly.
Rated: PG-13
Genre: Action, Adventure, Sci-Fi
Cast: Vincent D'Onofrio, Chris Pratt, Bryce Dallas Howard, Judy Greer
Director: Colin Trevorrow
Buy tickets for other movies showing, and get their showtimes on our site, HERE.
Remember, all work and no play just might make you dull. lol. Live a little and have fun, don't just exist.
From all of us, have a spectacular and 'funtastic' weekend ahead.