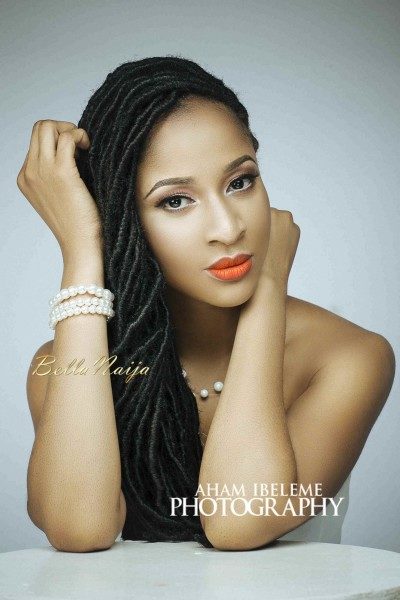 Nollywood actress Adesua Etomi, who released some gorgeous promo pictures recently, had an interview with weekly tabloid Encomium and talks about her current project, moving back to Nigeria, the idea that light-skinned actresses get more movie roles and more.
Read excerpts from her interview below.
On moving back to Nigeria: I wasn't planning to move back to Lagos when I did. Frankly, I quit my job over there because I grew discontent and restless. The idea was to visit for three months, but it has been three years. I stayed because Nollywood welcomed me and my love for acting refused to take a back seat anymore. It is a decision I'm glad I made.
On challenges in Nollywood: In the early days of my career, it was the challenge of being given an opportunity to show my acting skills. Thankfully with time this has gotten better. Now, maybe it would be the challenge of type-casting. It's very easy to find yourself in a box because of a previous performance. I have so much acting to give and I would love to show how diverse I can be, if given a chance. An actor lives to play different people. And last, there is the prejudice of being light skinned. There is a school of thought that says Nollywood likes light skinned actors, so a few mischievous people will allude to that being a reason for the amount of work that has fallen on my plate. I wish this was the case and while everyone is entitled to their opinion, no Director has told me I got a role because I was light skinned.
On her fans: I have the most polite fans ever, there is no weirdness. They say the nicest things to me and I haven't yet had any reason to feel any fan has been intrusive.
On having a man in her life: Yes, Jesus is the number one man in my life. My father and brother are also men in my life. I could go on, but it only goes downhill from this point.
On staying grounded with fame: God first and then my fantastic support system, which is a mix of family and close friends. Aside these, I have an outlook on this fame business that keeps me very grounded. My journey has only begun and it would be a bit premature to celebrate when I know that this is only a tip of the iceberg, so that thought also keeps me focused and it is easy to stay grounded if you're focused. The actor is never bigger than the job. The moment I think Adesua is a celebrity, the acting takes a back seat and I've lost my way. I never want that to happen.
On also being a singer: I love music but I just haven't had the courage to pursue it professionally. I was in the church choir for 10 years while I was in the UK. I didn't join the choir when I moved back to Nigeria because acting takes you away and I would miss so many rehearsals that they would probably have to kick me out. I will do something about using my other gift singing very soon, I promise.
You can read up her full feature here.
Photo Credit: Bella Naija/Aham Ibeleme Photography