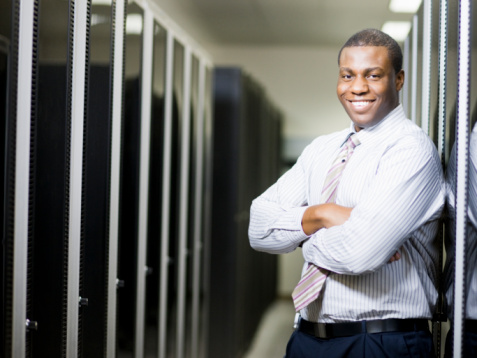 And what is this critical need?
In today's world where virtually everything revolves around computer(s), seriously that has to be Servers as they are the vital resource that needs to be in perfect shape given the critical role they play; working behind the scenes in getting the maximum benefit from the personal computers that companies – be it in banks, telecoms, oil and gas and indeed any facet of business use for their day-to-day operations. They're so key that if they sneeze, everyone connected catches cold and if for any reason they shutdown even for a minute, that company is in deep mess no doubts.
This explains why employers are very discerning when seeking individuals who will man this vital infrastructure; for them it doesn't matter what your background or discipline is or what your certificate says, the question is can you deliver when the chips are down as it concerns managing this live wire of their's called servers?
And so given the constant hunt for thoroughbred personnel with proficiency in server management, the life transforming and uniquely packaged Server Administration Career Program offers you the rare opportunity to be among the esteemed few to meet this critical need and live a dream life. With a unique blend of on-the-field like training and live hands-on exposure to servers, you are certain to attract the attention of companies and make their server openings yours.
For the chance to be considered for this program that opens the door to a rewarding career irrespective of your background or discipline, send the program code, your names, qualification, e-mail, gsm and preferred program venue. (E.g MCSA, Mary Jane, OND Sociology, [email protected], 080XXXXXXXX, Abuja) to 08061596493 (MTN); 08026699981 (AIRTEL); or 08117343348 (GLO) (no calls pls) and a free brochure about the program will be sent you via e-mail.
For Enquiries: 08069386320 or 08058690453 or visit www.deft-rains.com/microsoft-server-admin-2/
Entry Deadline: Tuesday, June 30th, 2015.
Program Venues
Lagos Center:
Deft-Rains Solutions Nigeria
143 Ojuelegba Road by Karimu Street Junction, Surulere, Lagos.
Abuja Center:
Abutech Academy
Crest Plaza, Plot C35/C36, S22 off 1st Avenue, Gwarimpa 11 Estate
___________________________________________________________________________________
Advertorial– Sponsored Content