For the past few months fans of ace comedian Julius Agwu have noticed and commented on his weight loss each time he steps out for an event. In this new and exclusive interview with Yes International Magazine, Julius Agwu opens up about his weight loss and the fact that he had brain surgery a few months ago.
According to him, he is very thankful and will be holding a thanksgiving service soon to tell the full story.
Yes International Magazine published the interview this morning.
Read excerpts below.
The Beginning – On the genesis of his ill health, he said he can't say specifically when and how it started. But all he could recollect was that at some point, he went on and on losing serious weight, which got many people wondering. Some concerned ones started proffering solutions, both medically and spiritually, while others resorted to murmuring and gossiping.
The Breaking point – It went on and on until sometime in May when he had a seizure at home and while his wife, Ibiere, whom he lavished with so much thanks all through our stay for her love, care, understanding and support, battled to halt that, he ran out of breath. Almost lifeless. And with the likely consequences starring her in the face, Ibiere got their maid and the security man to assist her in getting him into one of their cars. And from there, they practically sprinted to their hospital in Lekki.Thank God the doctor was on call. He battled for hours with his team to 'bring him back to life again'. And upon stabilizing him, Julius and his wife immediately left for the United States of America. Houston to be precise, where arrangement had been made at the Park Plaza Hospital.
The Diagnosis – After a series of tests, two lumps were discovered in his brain! The lumps had been messing up his health and causing his incessant weight loss. Immediately, the Caucasian surgeons went to work, operating on him for about 4 hours on Tuesday, May 12, 2015, at the Park Plaza Hospital in Houston Texas, United States of America. Upon being discharged, Julius rested in the US for some time before returning home recently.
Julius Agwu on his family & wife being there for him through it all:
"Onyeoma, I no go lie to you, na dem I just dey think about. But like I said earlier, it's God at work. I want to thank everybody who supported me in one way or the other. Those that were praying for me and all that. I'm planning a thanksgiving where I will still tell the full story. But for now, I just want to thank God and my wife. Onyeoma! My wife tried. The day I had the seizure, she put her finger in my mouth and I bit it…All the vomit; the mess; she was the one brushing and bathing me on the bed and clearing and cleaning them. IB really, really tried for me."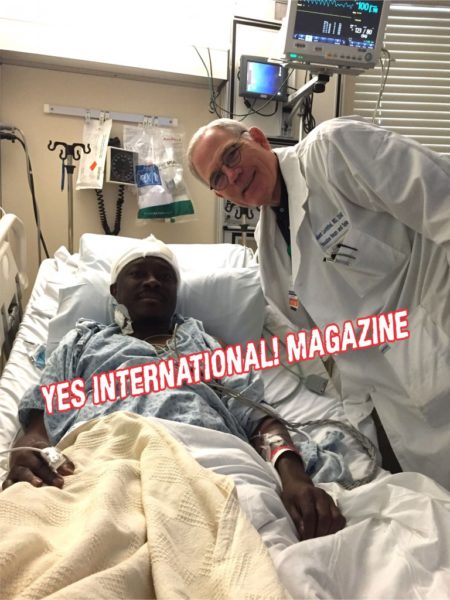 Read the full interview on Yes International Magazine.
Julius Agwu celebrated his birthday in April 2015. Since then, he has pretty much been off the radar. He had his surgery in May 2015 and he is currently putting things together for the 10th anniversary of his annual Crack Ya Ribs comedy show.
Photo Credit: Yes International Magazine