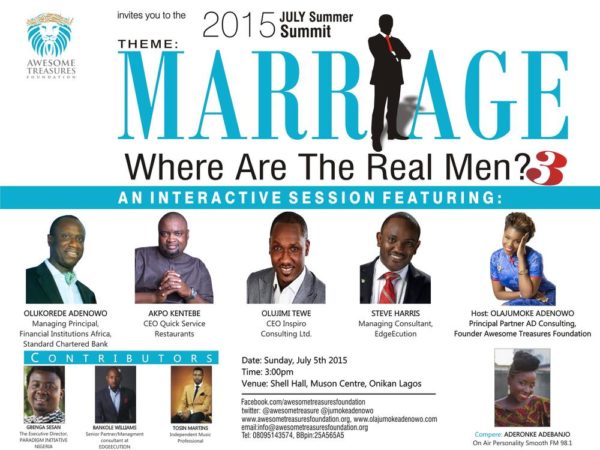 The Awesome Treasures Foundation – a faith-based non-governmental organisation raising transformational leaders towards a national renaissance  is back with her 2015 July Summer Summit themed "Marriage: Where Are The Real Men?"
The summit aims at empowering participants to make a difference in their relationships, marriages and all facets of life.
"Most times, it is not just lack of love, but lack of adequate knowledge, that makes failed marriages. It's the men's event of the year where minds will be prepared for blissful marriages", said Olajumoke Adenowo, multi-award winning architect and founder of Awesome Treasures Foundation.
Some of the seasoned speakers lined up for this edition include Olukorede Adenowo, Managing Principal, Financial Institutions Africa, Standard Chartered Bank; Akpo Kentebe, CEO, Quick Service Restaurant; Olujimi Tewe, CEO, Inspiro Consulting; Steve Harris, Managing Consultant, EdgeEcution; Gbenga Sesan, Executive Director, Paradigm Initiative Nigeria, Tosin Martins and many more.
The summit will also feature free medical checkup for participants and induction of new members. Admission to this event is free.
Date: Sunday, 5th July 2015
Time: 3 PM prompt
Venue: Muson Centre, Onikan, Lagos
Website: www.awesometreasuresfoundation.org | Twitter: @AwesomeTreasure
For more information and general enquiries, please email: [email protected]
____________________________________________________________________________________________________
Sponsored Content