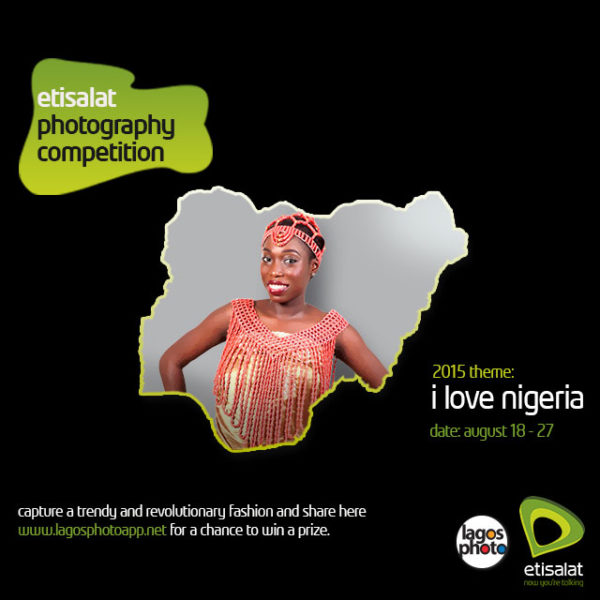 The 2015 Etisalat Photography Competition themed "I love Nigeria", which started in July with various expressions of Places and People, is currently in the 3rd phase, and is accepting entries for the "Fashion" category.
From August 18 to August 27, 2015 Etisalat is inviting photographers who are excited about fashion and love to share trendy photos to submit entries that showcase fashion the 9ja way and stand a chance of winning a Nokia Lumia 630.
Interested? Visit http://www.lagosphotoapp.net/ to submit your pictures.
To view the photo gallery, share or vote for your favourite photos, download the Official LagosPhoto App. The 50 most liked pictures will be shortlisted and judged by a panel to unveil the top 3 pictures that capture the amazing uniqueness of 9ja fashion.
These top 3 pictures in the "Fashion" category will be entered for the grand finale of the competition, which is billed to hold in October 2015, along with the top 3 from the other categories.
The first prize winner in the final competition will receive a Canon Camera; the second prize winner will get an iPad mini while the third prize winner will receive a high end Nokia Lumia device.
The Etisalat Photography competition is facilitated by the African Artists' Foundation as part of the LagosPhoto Festival – the first and only international arts festival of photography in Nigeria. The 6th edition of the LagosPhoto festival themed "Designing Futures" premieres October 17- November 21, 2015. The month-long annual project will include exhibitions, workshops, artist presentations, discussions, screenings, and large scale outdoor installations in congested public spaces in Lagos.
LagosPhoto aims to provide a platform for the development and education of contemporary photography in Africa by establishing mentorships and cross-cultural collaborations with local and international artists.
Nigeria's most innovative telecoms network; Etisalat Nigeria and Eko Hotel and Suites are title sponsors of the Lagos Photo Festival.
__________________________________________________________________________________________________
Sponsored Content