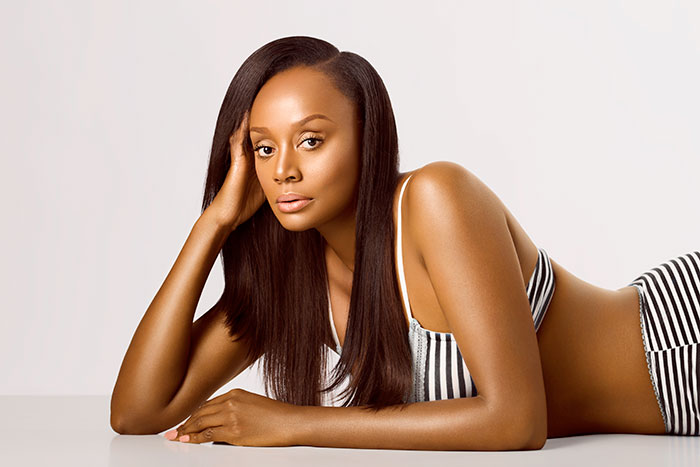 One of the great things about social media is that beneath the glitz and glam, it often gives us the opportunity to a sincere glimpse into the lives of our favourite celebrities.
TV Host/Actress Michelle Dede is currently rocking the screen on "Desperate Housewives Africa" and is also the brand ambassador for Emmaus Beauty. Many see Michelle all glammed up on the red carpet but now she is sharing the other side of the coin.
On her Instagram page, Michelle talks about growing up with many insecurities and how she finally learned to love and accept "HER".
****
Yes it's that time again.. #MichelleDedesMondayMotivation but in 2 posts this time. Gimme a break it's long cause I talk for a living ? #TVHost means talk a lot!
Part 1: A lot of us struggle with, or have struggled with insecurities. Those of you who are super confident, with no insecurities Damn..You are lucky! I hail ?
Many of us look in the mirror & I don't mean when some fab makeup artists like @shomya_lag @dorannebeauty or @oluchionuigbo beat your face to the point that you look at yourself, feel like Beyonce & say " #Slaaaayed I"m hotter than Sasha Fierce with #nofilter!"
Many of us think, I'm ugly, I'm dark, I'm white I need a tan, my lips are big, small, I need a nose job, I wish I had smaller eyes, bigger eyes, delicate features, long hair, high cheek bones, straight hair, curly hair, I wish I was thinner, more toned, tall, had a booty like Jlo, was sexy, feminine, beautiful, I wish, I Wish, I WISH blah blah blah!
It's normal to feel insecure about your looks, but how about trying to accept the way you look?. Now I don't know everything, but I know what it's like to dislike what you see in the mirror.
I hated my eyes, forehead, lips (yes I was told my lips were thin for a black girl while in school in Australia), disliked my height & more. High school in Ethiopia was even harder as
A. 90% of the women looked like God made them on Sunday morning while he rested after eating his favourite meal, yet the rest of us looked like he made us during the week as he focused on creating the sky, goats & other animals.
B. I was an athlete & did everything from swimming, 100metres track, relay, basketball, hurdles, long jump, javelin etc, so I was tall for my age, big & muscular.
In hindsight I was in the best shape of my life, but other kids make you feel terrible so I thought I was manly & ugly. Hard to tell from looking at me now but I was obsessed with sports & my low self-esteem back then coupled with people's comments meant I went into University & sports stopped, cause I wanted to focus on looking slender (read thin) not fit!
Part 2: As a fashion student while in University in London being bombarded with images of what is beautiful in mags like Vogue (my bible at the time), I felt even more insecure.
Being athletic wasn't it, so I dieted like crazy, eating an apple would mean weighing myself (Yes ridiculous I know). I learnt all I could about make-up, the Mac counter in Selfridges was my haven. I learnt to cover & hide everything I disliked on my face in the hopes of appearing beautiful to the opposite sex.
When I moved to Lagos I learnt to love how I looked.
The big eyes or "eyeballs" as people say here is what I started to highlight, I wore my hair off my face in ponytails more often, further displaying the fivehead God gave me (yes I said 5 head.. cause what I have can't be described as a forehead o! ). The more I felt comfortable about what I considered flaws in the past the more others suddenly saw those flaws as beautiful. I still have my insecurities & often look in the mirror & think "Nah mate" but more & more I do think "Yaaaas honaaaay you look hot & those eyes are speaking in several languages".
So you may not always like what you see in the mirror but it's important to look at yourself often & say "I Accept Me!". Don't focus on your dislikes, just ignore them, say it over & over for a minute or 3, everyday!.. Yeah yeah I know it might sound silly at first or you might feel embarrassed when you do it, but it won't hurt to try.
I know it's not easy, but what have you got to lose by trying.