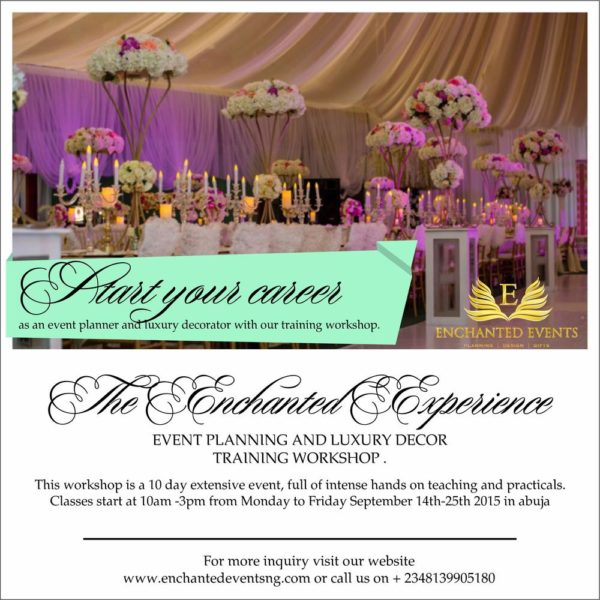 The Enchanted Experience event planning and luxury décor training workshop will be teaching you how to become a professional event planner and decorator.
The 10-day workshop will equip feature courses including event planning, client relations, event décor and design.
Who can enroll for this Event planning and Design Workshop?
Anyone who wants to plan their own event like a pro
Anyone who wants to start their own event planning and design business
Anyone who is interested in getting a job as a event planner and decorator
Anyone interested in planning and designing events part-time to earn money
Also,if you are already a floral designer, event designer or planner and would like to acquire the skills to launch your creative business to a new level, the Enchanted Experience Workshop is perfect for you.
Course Outline
Event planning
Introduction to event planning
The event planning industry
Role of an event planner
Types of events
Budgeting/checklist/contracts
Venue selection
Vendor selection
Starting Your Own Event Planning Business
Marketing, Networking, branding
The Web and Social Media
Event décor and design
Introduction to event design
Centerpieces and table styling
Art of drapery/linen /fabric
Flowers and floral arrangement
Lighting
Key elements to transforming a space
Floor plan layouts and sitting
Props
Quotation and costing
Vendor supply list
So if you want to plan your event like a pro or start your event planning and design business, this intense hands on teaching and practical workshop is for you.
Date: Monday 14th – Friday 25th September 2015
Time: 10 AM – 3 PM
Venue: Suite C13/14 J-plus Complex, 39 Jimmy Carter street, Asokoro, Abuja
Contact: For more info and general enquiries, e-mail: [email protected] | call: +2348139905180, +23492918255
Registration: To register, visit www.enchantedeventsng.com
________________________________________________________________________________
Sponsored Content