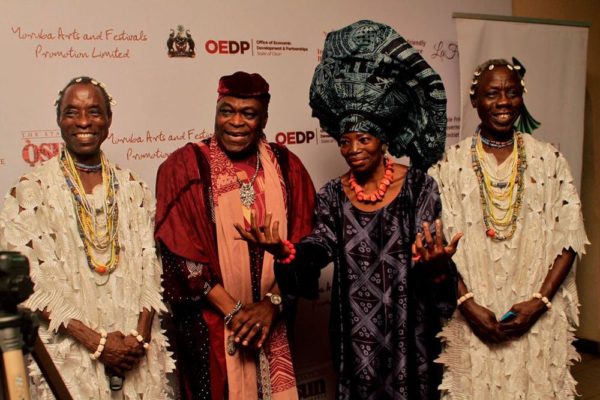 Celebrating Yoruba arts!
The Yoruba Arts and Festivals Promotion Limited created a magical night at the Ripples Hotel, Osogbo on Thursday 20th August 2015. The maiden edition of the Ethnic Fashion Show and Awards Night was held on the eve of the finale of the Osun – Osogbo Festival. The cultural fiesta started off with notable dignitaries present including Oba Dokun Abolarin, Oba Adeen Adedapo Aderemi, Babajide Omoworare, Tunde Fagbenle, Jimi Solanke, Gboyega Adelaja, Yomi Layinka, Tunde Adegbola, Doyin Adunni Olorisa, Tunde Oshinibosi, Teju Kareem, Hugh and Robin Campbell.
The event featured designs from Glam Expression, Olawunmi Obanla, Adenle Art Gallery, Fadesewa Olaosebikan, Adekunle Esther, Taiwo Oyeyemi, Femi Olayebi and FADAN.
The runway session was anchored by Koffi who punctuated his task with rib cracking jokes. Cultural displays by the Osun State Council for Arts and Culture and a saxophone session by Prince Eji Oyewole also filled the intermission.
The highlight of the night was the presentation of outstanding achievement awards for the awardees' contributions to art, culture and fashion. The award winners include Lexy Mojo Eyes, Oyenike Okundaye (Nike Centre for Art & Culture), Funmi Ajila Ladipo (President, FADAN), Rafiatu Akanni (Iya Alaro), Abiodun Duro Ladipo and Oba Adedokun Abolarin. Charles Diji Akinola, Dipo Famakinwa and Yomi Layinka were also present to shed more light on the event and the benefits of promoting Osun culture, arts and fashion.
The event was wrapped up with a special performance by veteran musicians – Gboyega Adelaja and Jimi Solanke.
Check out photos from the event below!
For more information, please visit www.yorubaartsandfestivals.com.
_____________________________________________________________________
Sponsored Content