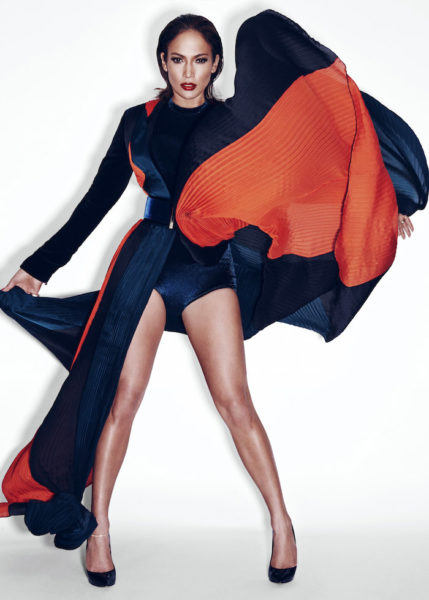 A few days ago we brought you the fierce double cover of Paper Magazine's 'Luxe in Flux' issue with Jennifer Lopez, Balmain's Creative Director Olivier Rousteing as well as Moschino's Creative Director Jeremy Scott and rising star CL.
Paper Magazine has released the full feature and we just love the editorial spread with Jennifer Lopez and Olivier Rousteing – there is so much chemistry.
Here are excerpts from their interviews.
***
Olivier Rousteing
On the meaning of luxury: For me, luxury today is confidence in assuming who you are, where you are, no matter where you come from. And that's what I think I do with Balmain. A lot of people say it's a party dress or something, and I think Jennifer explained pretty well that she wants to wear it onstage. When you want to wear something onstage, you want to wear it not because it's a party dress, but because it's armor. It's something you feel really strong in that you're going to show to the world.
On his muses: Yeah. For me, Balmain is almost feminist. It's about the power of girls and women in the world. And that's why I love Jennifer. All the muses that have inspired me are really strong and they sometimes fight against the world to show their own rules, which I think Jennifer did throughout her career and she's still doing it. You see many stars today try to look like her. She imposes her own rules. And when I think, "What is the Balmain girl?" it's this. It's a woman who knows what she wants and is going to express it.
On racism in the fashion industry: Because they're not living in the real world. You asked me why we need celebrities in fashion, which I think was really smart. Celebrities come from music. I think the music system is way more open-minded and way more diverse. Fashion people sometimes forget that, except for the front row that you're going to get at your show, there's an entire world that loves fashion. So it's important for me and for Balmain to show the diversity because it's also about the luxury of communication. And you don't communicate for just 10 people in the room during a show; you communicate to an entire world.
***
Jennifer Lopez
On the meaning on luxury: To me, it's stuff that's very custom or made for you or fitted — that's how I like all my clothes to feel. And when I think of luxury, whether it's a house or a car or any luxury item, it's like something special about it that feels like you. Or a piece of jewelry — you know what I mean? It has to have a classic feel to it. I like things that are super trendy. I like things that look like they could've been in this era or that era, but it still feels modern.
On the importance of fashion and music: Pop culture and fashion have always had a correlation, from old Hollywood to contemporary music. As a performer, I know that clothes are an expression of the music I create or the character I play.
On fashion houses having muses: The concept of a fearless, strong woman who radiates confidence inside and out is an inspiring idea. It's a great thing for young girls and women to see Balmain's muses illustrated by these ideas of strength and beauty. For them it's about a woman who creates her own destiny and forges her own future.
You can read up their full feature with Paper mag here.
Photo Credit: Paper Mag