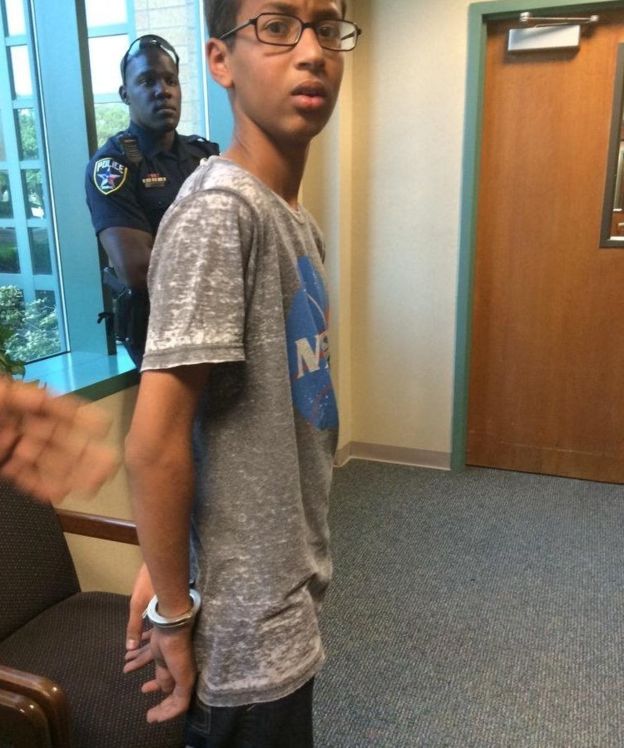 14 year old Ahmed Mohamed did what many parents want their children to do – be innovative and creative. He crafted a homemade clock and excitedly brought it to his school in Texas to show his engineering teacher.
Unfortunately, his teacher at MacArthur High School did not share his excitement as school officials alerted police because they thought the device was a "hoax bomb". When the clock was discovered, he was removed from his class, interviewed by teachers and then placed in juvenile detention. The Police was also called.
When the Police arrived, they made a surprising move – they arrested Ahmed. He was placed in handcuffs and fingerprinted!
The move has been criticized by people all around the world using the Hashtag – #IstandwithAhmed
Now, the Police in Ahmed's town have decided not to press charges.
During a press conference, Ahmed explained that he plans to transfer to a new school and tells the story in his own words "I built a clock to impress my teacher but when I showed it to her she thought it was a threat to her. I'm very sad that she got the wrong impression of it."
Ahmed's father who is originally from Sudan had this to say "He's a very smart, brilliant boy and he said he just wanted to show himself to the world.". Other family members are claiming Ahmed was arrested because of his name. An accusation which has been denied by the Police.
While the story is certainly disappointing, there is a bright side, Ahmed has been invited to the White House by President Obama!
Cool clock, Ahmed. Want to bring it to the White House? We should inspire more kids like you to like science. It's what makes America great.

— President Obama (@POTUS) September 16, 2015