We spotted this on Nelly Agbogu's instagram page. Nelly is an inspiring lady who lost major weight – Check out her BN feature here. Nelly has extended her wellness passion into a new line of freshly made health foods including gluten free/processed flour free/processed sugar free bread, jam and other goodies. You can order via her Instagram page.
One of Nelly's fans shared this dilemma with her and she shared it on her page.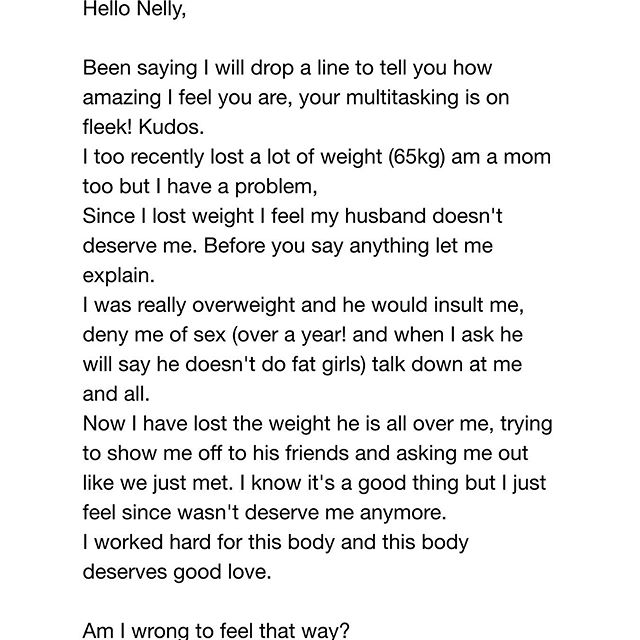 ***
Hello Nelly,
Been saying I will drop a line to tell you how amazing I feel you are, your multitasting is on flee! Kudos.
I too recently lost a lot of weight (65kg) am a mom too but I have a problem,
Since I lost weight I feel my husband doesn't deserve me. Before you say anything let me explain.
I was really overweight and he would insult me, deny me of sex (over a year! and when I ask he will say doesn't do fat girls) talk down at me and all.
Now I have lost the weight he is all over me, trying to show me off to his friends and asking me out like we just me.
I know it's a good thing but I just feel since wasn't (he doesn't) deserve me anymore.
I worked hard for this body and this body deserves good love.
Am I wrong to feel that way?
***
This is a major dilemma, BellaNaijarians, share your thoughts.