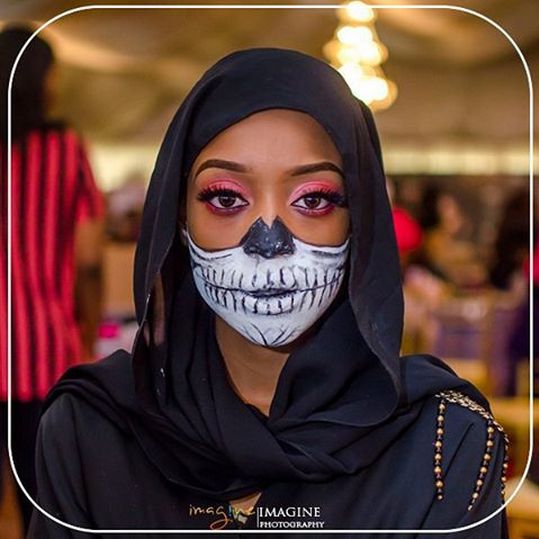 The 5th edition Abuja Makeup Fair took place on Saturday 22nd August 2015 and had its Makeup Runway show 2nd edition.
This unique showcase saw emerging and established makeup brands and artists create varied looks using makeup. From haunting zipped down skin to floral face paintings, the runway looks proved that the beauty industry is brimming with talent. They had a total of 20 makeup artist from Abuja, Jos and Kano, create stunning, unique and striking faces using makeup, special effects and more.
So, to give you guys a closer look at some of our faves, BN Beauty is here with our top 5 looks from the Abuja Makeup Fair 2015.
Check them out!
The Skeleton Face by Pretty Ink Signature (Instagram: @PrettyInkSignature)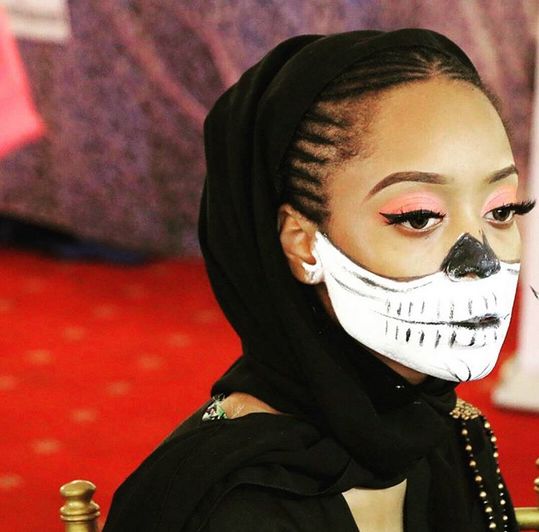 This look is definitely one of our favourites. We love the contrast between her normal statement eyes and the skeleton painting done on her face. And keeping her scarf on added a little mystery to her overall look.
See more images of the look below:
The Kim Kardashian by Temmie (Instagram: @CocoOf2609) | Model: GI Models (Instagram: @GIModels)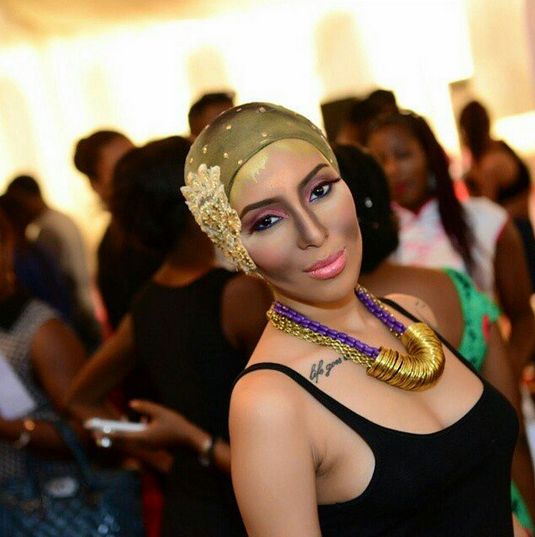 She really does look like Kim right? This lovely makeup look created by Temmie was definitely one that struck us. It's not over the top, or extravagant, but it is beautiful and very pretty. We also love how they let the gold paint glide down her forehead.
So if you're not into crazy looks, this is definitely one you'll love.
See more images below:
Zipped Up by Bahijjah S Bawa (Instagram: @MakeupByBee_Jay) | Model: Aysha Yusuf (Instagram: @Ayeasha_Yusuf)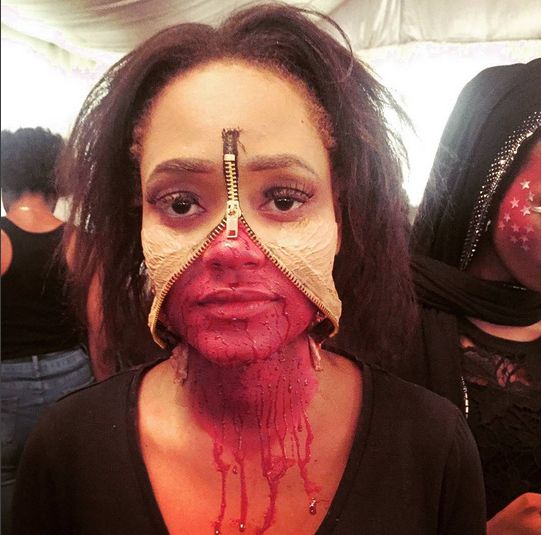 This is just hauntingly good and I'm guessing you can tell why this look stood out for us. We have seen many variations of this look, and have to say this is still pretty good. The special effects makeup portrays a girl whose face has been zipped off, exposing the inside of her skin.
We think she pulled it off well for an on-the-spot job. What do you think?
See another image below: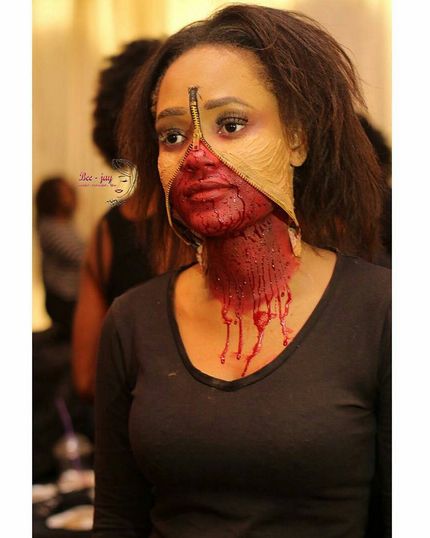 The Pretty Swirl by Belleza Makeup Studio (Instagram: @BellezaMakeupStudio) | Gweny (Instagram: @Mit_Gwen)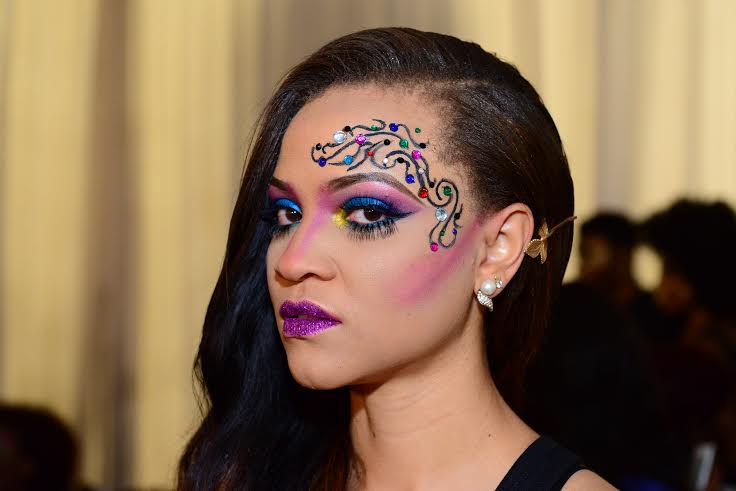 This is so lovely. Belleza created this enchanted makeup look with pink glittery lips, yellow tear ducts, blue eyelids and an embellished spiral design.
We love how understated yet pronounced the look is and the model makes it work so well.
See more images below:
The Glittery Butterfly by Uduak Mary (Instagram: @UduakMary) | Model: Timmy Emmanuel (Instagram: @TimmyEmmanuel)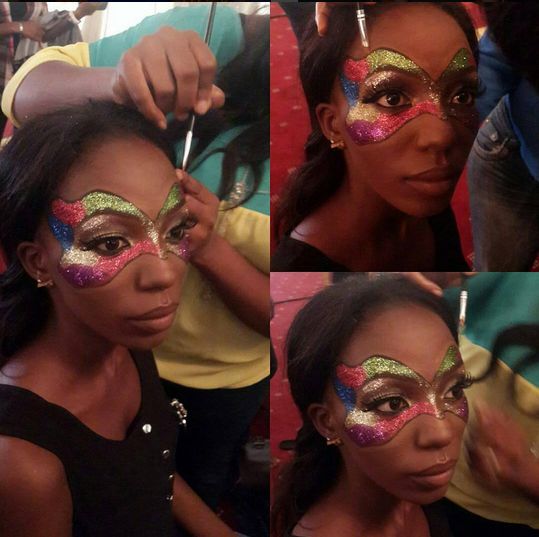 We think this look is so pretty. Created by Uduak Mary, the makeup brand went for a fairytale-themed look which feature long wispy lashes, and a multicoloured mask. We really love how the colours were kept separate which adds to the overall beauty of this look.
See another image and an extra look created by the makeup artist.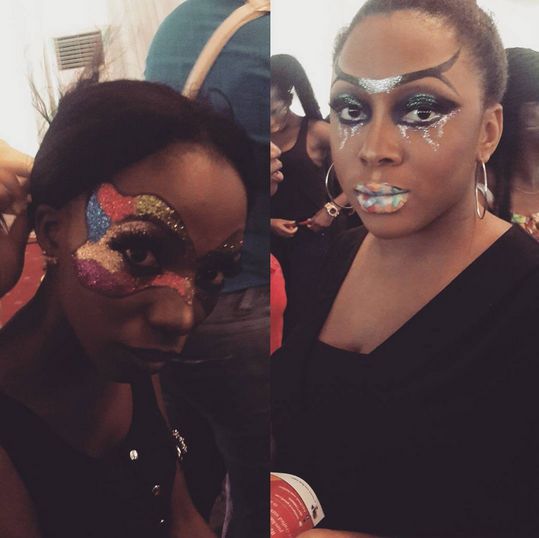 Tell us which look you love the most!
Photo Credit: Jeremy Doro (Instagram: @JeremyImaginePhotography) | The Makeup Fair (Instagram: @TheMakeupFair)
The 2nd Makeup Runway was sponsored by Bariats and supported by Gifty's Daughter, Pibona Cosmetics, Yazi's Place, O3 Events, Deva petals, GI Model Management & produced by Q21 Solutions.
To find out more about The makeup Fair Series, call: 08188905667 or 08037862333 | Visit: www.popsconcepts.com | Follow them on Instagram: @TheMakeupFair