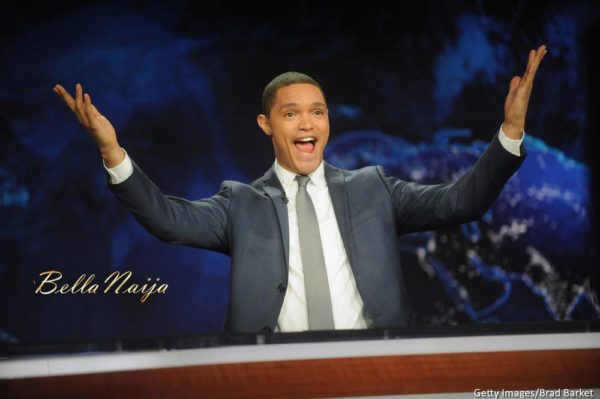 We've been eagerly following South African comedian, writer, producer, actor and media critic Trevor Noah especially more so since he was announced as the host of American news satire television program The Daily Show, succeeding Jon Stewart.
From his promo videos to his interview with GQ, Trevor Noah has been under a lot of pressure to fill the shoes left by Jon Stewart as the host of 'The Daily Show'.
The show premiered last night on Comedy Central and judging by the different reviews – he didn't do so bad.
Here are some reviews so far:
The Guardian states that 'The Jon Stewart replacement marks his first night behind the desk with some groan-worthy jokes and an awful interview, saved by flashes of inspiration'
The Wrap praised the 31-year-old's first appearance behind the desk saying 'Trevor Noah opened his first Daily Show with a perfect mix of funny and poignant remarks. The South African comic charmed, scored belly laughs and paid homage to his predecessor with just his few minutes on the air'
USA Today wrote that 'Someday, The Daily Show may truly belong to Trevor Noah. But not yet. To be fair, how could total ownership of that Comedy Central staple transfer in just one night, when Jon Stewart had 16 years to turn it into an institution? Any new host would need some time to catch up and take over, and newcomer Noah is no exception.'
Daily Beast notes that 'The man replacing Jon Stewart as host of Comedy Central's 'The Daily Show' opted for curses and dick jokes over keen observational humor in his first outing.Trevor Noah's version of The Daily Show, on the surface at least, should be reassuringly familiar to Jon Stewart fans.'
We think it was perfect having Kevin Hart as his first guest on the show, plus it's not easy filling the big shoes left by Jon Stewart.
But he'll definitely warm up to it.
Here's his opening monologue from last night.
Photo Credit: Getty Images/Brad Barket