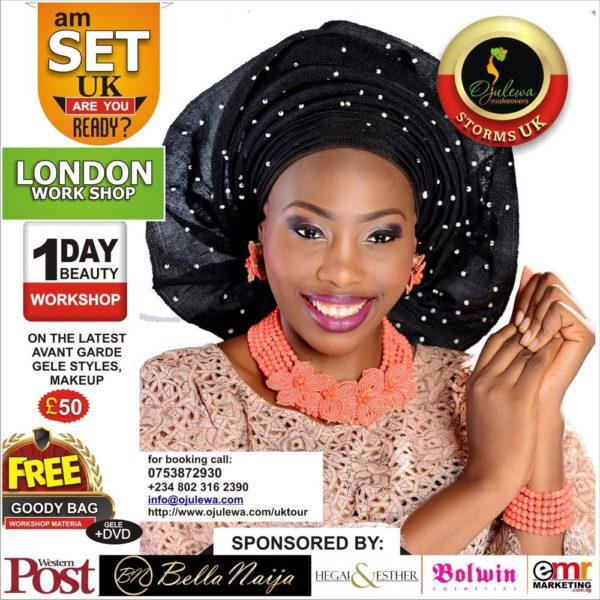 As a bid to promote the Cultural heritage of Nigeria through the art of Makeup and Gele ties, Ojulewa Studio would be touring the United Kingdom, Manchester City and others in the month of October.
In her tour, She would be tutoring her clients one-on-one on Gele styles, Top Makeup Techniques, Latest Iconic Head Gears and Makeup of all styles.
Details:
Ojulewa STORMS U.K – Mind-Blowing Gele styles with various Top Makeup Techniques & Latest Iconic Head Gears
Date: Saturday, October 3rd
Time: 11 AM -4 PM
Venue: IBA Hall , 88,Vestry road , Camberwell SE5 8PQ.London
Fees: £50
To Book Call: 07538072930 get the latest Hot Gele DVD & goodie bag
For Bank details, Call /Whatsapp:+2348023162390
Bank Reference- Ojulewa/Your 1st name
For one-on-one Private Bookings with Ojulewa, call: 07538072930 | Email: [email protected]
Ojulewa STORMS Manchester
Date: Saturday, October 10th
Time: 11 AM
Venue: St Clement Church ,Groves Avenue , Salford M5 3QW, Manchester
Contact: 07538072930
For more information about the brand, visit her website: www.ojulewa.com.
For Media sponsorship and PR features, email: [email protected]
_____________________________________________________________________________________________
Sponsored Content