Last Sunday, Lagos' new destination of modern and contemporary art, Rele Gallery in collaboration with Samsung Electronics West Africa, launched its most impressive exhibition yet. The exhibition titled: 'Interactions: Crossing Lines' featured visual artistry's powerful duo: Soji Adesina and Uthman Wahaab.
The exhibition was an innovative turn, in how art can be presented in Nigeria and follows the wheel of what already obtains in other art capitals of the world. The body of work by Wahaab and Adesina deconstructed the concept of how drawings can interact with the gallery space. The drawings were in rhythm and movement, travelling seamlessly from the drawing surface of canvas and paper, to the walls of the gallery and finally into digital spaces via Samsung tablet devices. Samsung has in the past shown itself committed to creative disruptions, that changes the way we think, engage the world around us. It is the first tech company in Nigeria to collaborate with art on such a scale.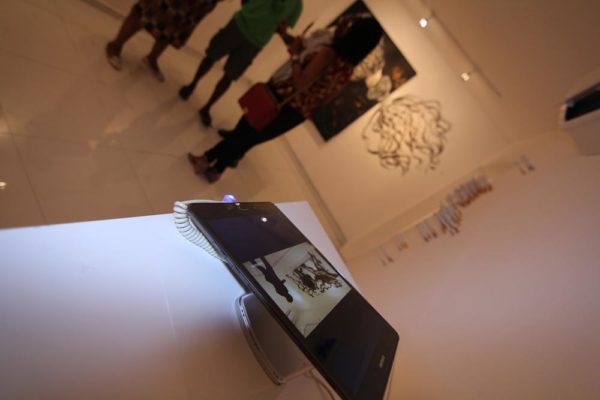 Wahaab showed a body-conscious collection, 'The Fat Women Series' that asks questions of how we perceive the black woman's body and standards of beauty using ballet/ballerinas as a metaphor for exclusion. What is the right or wrong body type? Who defines what beauty and ugly is? And who says fat women can't be fabulous? In one of his pieces, a fat woman is reclining in a chair, face primed, selfie stick in hand. In many others, she is dancing, twirling without a care in the world. Skinny girls can't have all the fun!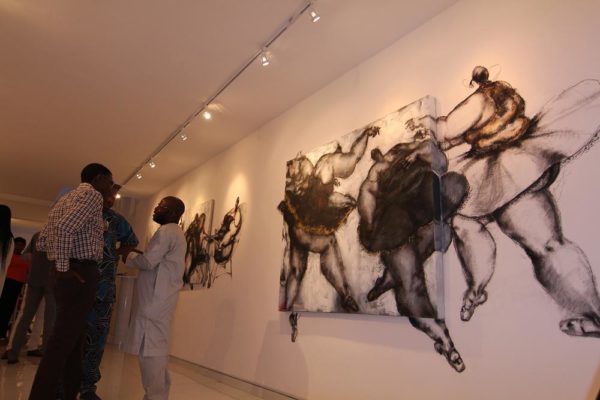 Adesina's collection also had strong social undertones. His titled, 'The Coffee and Cigarette Series' mocks how we absorb foreign cultures and attitudes in an attempt to appear sophisticated such as drinking too much coffee and smoking too many cigarettes, and christening it as one of our 'bad habits'. A similar example is when Nigerians at public functions kiss on both cheeks. Perhaps not many people realize that this is a borrowed and very French way of greeting. We can't even argue we inherited it as a relic of colonialism because the English only kiss on one cheek!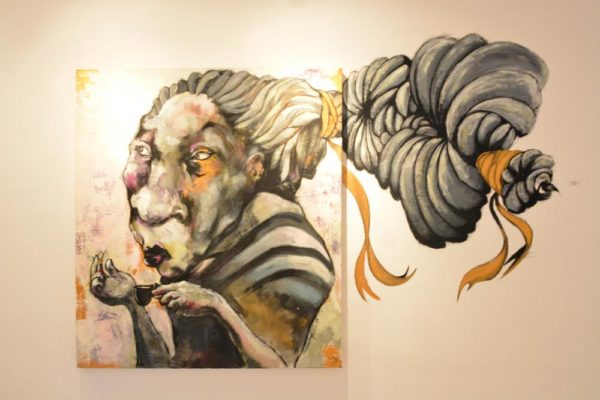 The exhibition as a whole was an immediate conversation starter for all the guests in attendance- Lagos' art cognoscenti, collectors, auctioneers, critics, artists, enthusiasts – and most importantly for Rele and Samsung, those who were encountering art on such a scale for the first time. Rele's mission is to trigger a newfound appreciation for the arts and Samsung's mobile technology has proven to be a timely enabler of this cause.
The exhibition was launched in line with an art competition, #TechMeetsArtNG, details of which can be found on www.techmeetsart.ng. Submission deadline for the art contest is on 21st of September, 2015 whilst the exhibition will be open to the public till it closes on the 27th of September 2015.
Visit the exhibition space at Rele Gallery, 5 Military Street, Onikan Lagos which is open Tuesdays to Sundays.
______________________________________________________________________________________________________
Sponsored Content