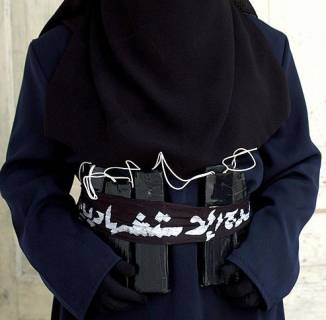 Four female suicide bombers attacked Umari village in Maiduguri, Borno State on Friday morning, leaving at least 22 people dead.
The early morning suicide attack came barely 12 hours after two male suicide bombers attacked Maiduguri from the same area killing over 30 persons – most of whom were those praying in a mosque, Leadership reports.
A Red Cross official who was evacuating bodies at the scene of the incident confirmed the casualty figures, stating that it includes the bombers.
According to an eyewitness report:
At about 5am, four women, all armed with Improvised Explosives Devices (IEDs) worn under their garments made an attempt to sneak into Maiduguri through same route where last night's bombers used, were spotted by soldiers who allegedly shot them down when they defied orders to stop advancing.

One of the women was however quick to let go the trigger of her explosive, killing herself and injuring about 14 innocent villagers at village near Molai where yesterday's blasts occurred.

The women were seen trying to sneak through the bush paths along the Maiduguri-Biu road, but soldiers at the checkpoint were able to spot them after receiving some vital intelligence from informants.

The women refused to obey soldiers orders to halt movement, so the soldiers opened fire on them. One of the women was unfortunately able to detonate her explosive, which triggered the ones on the bodies of the three others that were shot down. The shrapnel from the bullet had however killed many persons and injured about 14 villagers in the nearby community. We have rushed the victims to the hospital where they are currently receiving treatment.