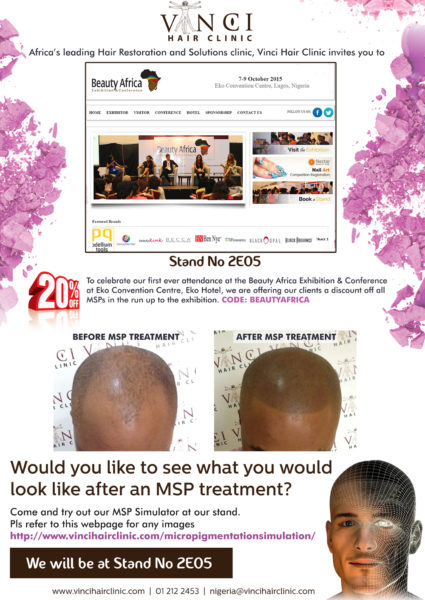 Do you have problems with hair loss? Are you suffering in secret? Relax! A solution is finally here with Vinci Hair Clinic, the first ever hair transplant and restoration clinic in Lagos, Nigeria. Come and speak to us at the Beauty Africa Exhibition & Conference. We will definitely recommend solutions to your hair loss problems.
Date: Wednesday 7th – Friday 9th October
Venue: Stand No 2E05, The Beauty Exhibition & Conference, Eko Convention Centre, Eko Hotel, Lagos
Vinci Hair Clinic is also organising two thought leadership master classes at the exhibition to educate attendees on male and female hair loss (baldness). The classtopics are: 'Male and female hair loss (baldness): the causes and solutions' available on the 7th October at 3pm to 4 pm in Conference room one and 'Traction alopecia (hair loss) in Nigerian women: warning signs and growing your hair back' on 9th October at 11am to 12 noon in Conference room two at Eko Hotels and Suite.
The speakers at the master class will include; Ayo Otubanjo, CEO, Vinci Hair Clinic Nigeria and Dr RiadRoomi, Lead Transplant Surgeon, Vinci Hair Clinic United Kingdom & Dubai
For more information, please visit http://www.vincihairclinic.com/locations/nigeria/
________________________________________________________________________________________________
Sponsored Content