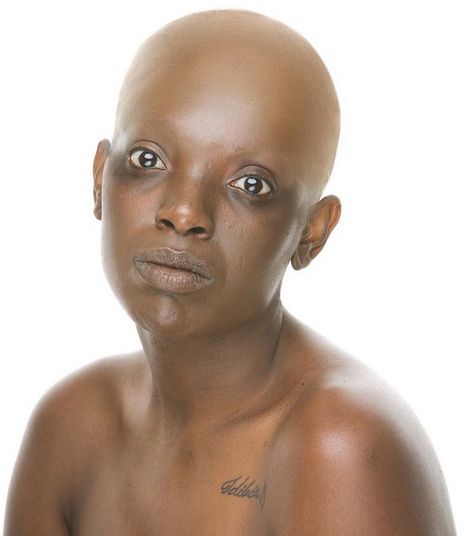 This has to be Annie Idibia's most shocking photo yet!
To help raise awareness for cancer, she posed for a Breast Cancer-inspired shoot by makeup artist Banjo Laide of ArabyLaide and photographer, Emmanuel Oyeleke, tagged #FightTheOdds.
The purpose is to "to create more awareness about cancer and the importance of self examination. Recent studies have shown that 20% of breast cancer is discovered by self examination rather than mammography and we must realize that cancer is not a respecter of persons. It could happen to anyone, even a celebrity like Annie Idibia. Imagine the lives that will be saved if more women physically checked themselves on a regular basis, imagine if we could stand against breast cancer by fighting the odds via self examination. Let's save the life of a woman today, let's examine ourselves today!"
In the photos we see Annie with a bald head, no makeup, and topless.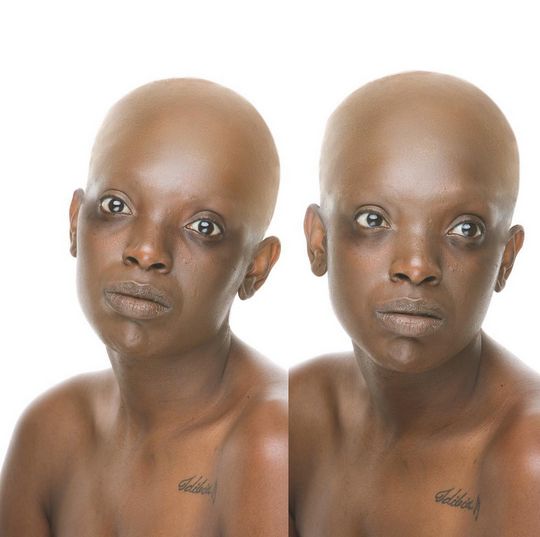 The shoot is a personal one for makeup artist, Banjo Laide. She shared her inspiration, which stems from a close encounter with Breast Cancer, via Instagram. She wrote;
"At the age of 18 I had a breast cancer scare as I noticed a hard lump on my left breast and a swelling occurred. After being examined I discovered it was a lump, and the doctor scheduled an appointment for it to be removed. But on the day of the surgery it was a miracle as it disappeared. It resurfaced again and I had no option but to do a mammogram. At the end of the day it was discovered I had high Prolactin level – a disorder that causes the pituitary gland to produce more Prolactin than normal. Although I was cancer free, the incidence was a wake up call on the importance of regular self examination. Because of this I decided to team up with Nollywood actress/entrepreneur Annie Idibia @AnnieIdibia1, and ace photographer Emmanuel Oyeleke @EmmanuelOyeleke, to create this look with the project called #FightTheOdds portraying that anyone can be a victim of cancer even a celebrity. S/o to the whole team who made this work."
We have to admit, it's a stirring photo that drives the point across. What do you think of the shoot?
Photo Credit
Photography: Emmanuel Oyeleke (Instagram: @EmmanuelOyeleke)
Makeup: Banjo Laide (Instagram: @AraByLaide)
Creative Direction: Olabanke Banjo (Instagram: @Olabanke03)
BTS: Dee (Instagram: @Dolzee)
Model: Annie Idibia (Instagram: @AnnieIdibia1)