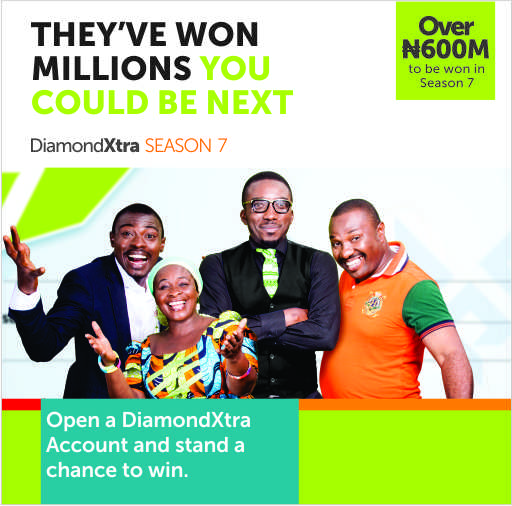 Diamond Bank Plc is offering customers the chance to win Salary4Life (earn 100k every month for the next 20 years) for saving in the DiamondXtra Promo.
At the end of every month, a DiamondXtra Promo draw is held where one lucky customer wins the star prize of Salary4Life. 10 other lucky customers win N1million each and another lucky customer wins N2million. In addition, there are weekly draws too where customers can win N250,000 (10 winners each week), N500,000 (5 winners each week).
This reward is open to new and existing customers.
To stand a chance to win, simply open a DiamondXtra account with a minimum of N5,000. If you have a DiamondXtra account, increase your balance for a greater chance to be a millionaire.
Since inception, over 4,000 winners have emerged in the DiamondXtra Promo, with over N4 billion given out since the inception of the scheme in 2008.
This season 7, over N600 million has been given out to 1,439 customers.
Diamond Xtra Promo is independently verified by KPMG & endorsed by Consumer Protection Council (CPC) and National Lottery Commission (NLRC).
Rush to the nearest Diamond Bank branch to join other millionaires in the DiamondXtra reward scheme. Tell a friend as well.
Find out more here: http://goo.gl/2WubJ5.
__________________________________________________________________________________________________
Advertorial– Sponsored Content