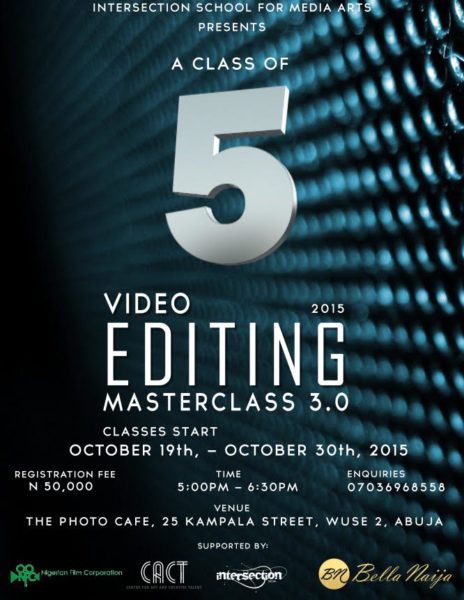 After the Filmmaking Masterclass 2.0  held in August, A Class of 5 is back with the third edition of its Video Editing Masterclass.
The Video Editing Masterclass will provide attendees with a strong foundation in non-linear editing with the up-to-date video editing software, enabling all who attend become experts in editing various forms of visual works.
A variety of topics will be taught including:
Understanding the UI
Importing formats
Video editing techniques (basic & advanced)
Audio mixing
Working with stills
Graphics
Markers
Time remapping
Effects
Creating title sequences
Export formats (broadcast, web, cinema)
The Video Editing Masterclass is the definitive course in non-linear editing as part of the post -production workflow.
This class is supported by Nigerian Film Corporation, Centre for Art and Creative Talent (CACT) and BellaNaija.
Date: Monday 6th July 2015 – Monday 3rd August 2015
Time: 5 PM – 6 PM
Venue: The Photo Café, 25 Kampala Street, Wuse 2, Abuja.
Registration Fee: N50,000 (10% Discount for first five Students)
Contact: For registration, sponsorship and general inquiries contact O'Tare… 07036968558 | e-mail [email protected]‎
Follow them on social media – Twitter (@korexcalibur @fluis10) | Instagram (@korexcalibur @fluis7)
__________________________________________________________________________________________
BellaNaija is a media partner with A Class of 5 Video Editing Masterclass