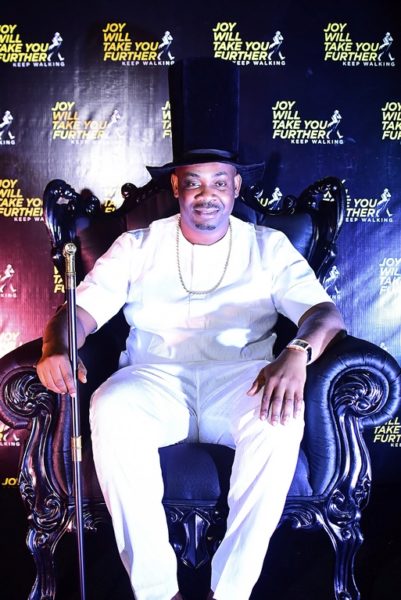 Multi award-winning producer and founder of Mavin Records, Don Jazzy, who recently signed a deal as Johnnie Walker Joy Ambassador for Nigeria will be joining Jude Law as well as other global influencers and key media to attend the global premiere of The Gentleman's Wager II movie in Rome.
Don Jazzy, other global influencers, as well as select international media will be welcomed with a lavish dinner and a whiskey tasting session to guide guests on the rare liquid of Johnnie Walker Blue Label which will be hosted by Johnnie Walker Global Brand Ambassador, Tom Jones.
In true Johnnie Walker Blue Label luxury fashion, guests will arrive at the premiere of the Gentlemen's Wager II movie in classic cars reminiscent of the movie. At the premier, they will be hosted by The Gentleman's Wager II stars Oscar-nominated actors Jude Law and Giancarlo Giannini.
The film continues with the friendly rivalry theme between Jude Law and Giannini Giancarlo as seen in the first Gentleman's Wager movie. The sequel to the Gentleman's Wager I shows Jude Law and Giancarlo entering into a wager over a priceless car, a gorgeous classic Delahaye 135s vintage racing car, which has been a Walker Family heirloom since the late 1930s. We follow Jude's efforts to win it and witness a race through scenic routes from Rome to Monaco.
The film reinforces Johnnie Walker's "Joy Will Take You Further" message. It embodies the Johnnie Walker brand at its peak-living with Joy, and the gratitude and spirit that it involves –within a context of rarity, beauty and craft.
The theme of the movie dramatizes the ethos of the new Johnnie Walker campaign of how happiness fuels success rather than toil and sweat, and positions Johnnie Walker Blue Label as the ultimate luxury gift to acknowledge and celebrate progress.
The movie will be launched internationally on the 31st of October 2015. Look out for it in your local cinema!