Hey BellaNaijarians! Welcome to part 2 of media personality Mercy Ajisafe's personal diary of her exciting journey to Johannesburg, South Africa (Click here if you missed part 1). Come along on this exhilarating ride as she recounts her fun journey.

Friday, September 25th
Today is the day that I have been waiting for! We finally get to take the official Johannesburg and Soweto tour. Yaaaay, I'm especially excited as we get to see Nelson Mandela's home. First of all we'll drive past his palatial family home in the fancy part of jo'burg. Then we'll see the home he shared with his first 2 wives (at different times of course) in the heart of Soweto. Anyone that knows me knows that I'm a history buff, and I absolutely relish learning new things about our world, and heritage especially.
To be so honest, I really didn't know much about Johannesburg prior to my trip. At the risk of sounding like a vacuous philistine, all I knew was South African rapper AKA reps Jozi, and that Bonang Matheba resides there.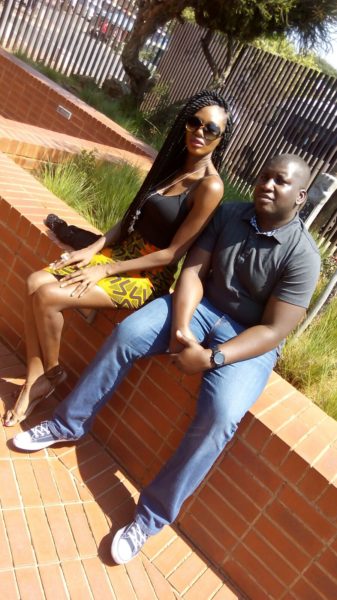 I certainly wasn't aware that Johannesburg was and still is essentially one big mining camp. The original layout, with narrow roads and small city blocks, is a result of a belief that like all gold rushes, this one would be over soon; they were terribly, terribly wrong. The city arose from the dusty veld, stranded in the centre of the country, with no river or seafront to assist in the development of trade.
Despite this, it is today, Africa's powerhouse and the economic capital of South Africa.
We learned from our tour guide that History was written when gold was discovered in 1886 by George Harrison, an Australian prospector, and on September 20th, when President Paul Kruger proclaimed the findings open for public digging, Johannesburg was officially founded.
The land at the time was governed by the Afrikaner, but of course, that all changed when the wealth became apparent.
Visiting Mandela's home was such an iconic moment for me, one that I will never forget in a hurry. The strength, integrity and courage displayed by this man was nothing short of admirable and incredible.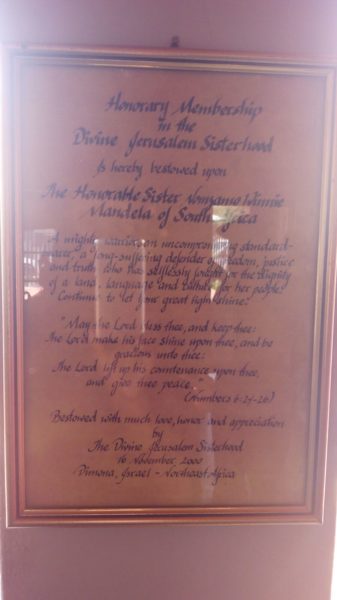 After the tour of Madiba's home, it was time for a local South African lunch at the indigenous restaurant Sakhumzi, across the road from 8115 Vilakazi Street. It was a buffet style meal, and I had some very tasty lamb with rice, salad and some cheesy beans (I love cheese so I was quite happy).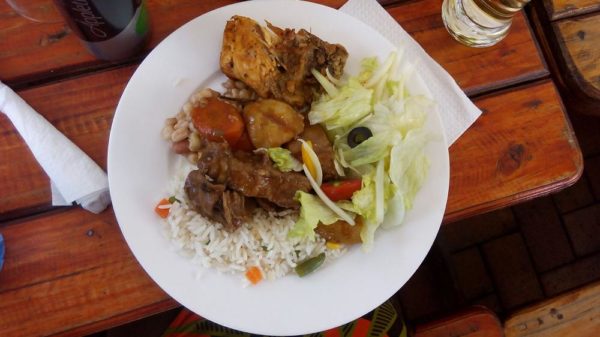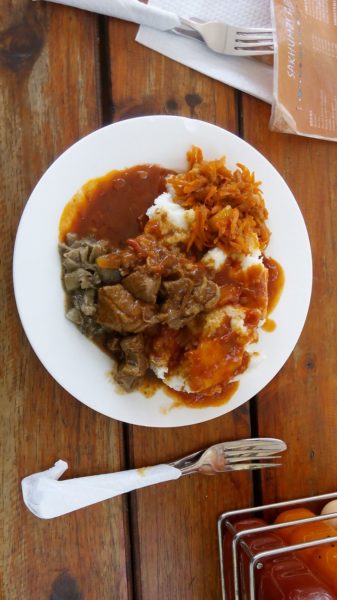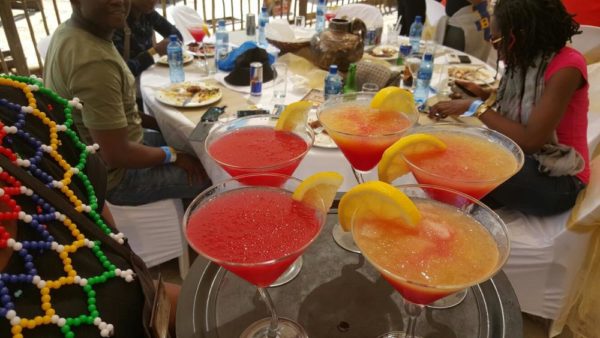 After lunch, we then excitedly made our way to Gold Reef City. Gold Reef Citaaaay is an amusement park located on an old gold mine that closed in 1971. the park is themed around the gold rush that started in 1886 on the Witwatersrand.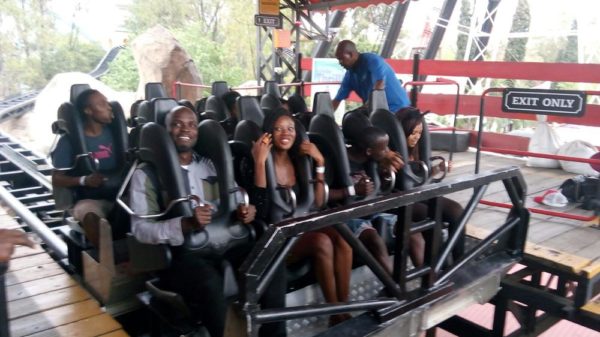 The staff wears period costumes from the 1880s, and the buildings on the park are designed to mimic the same period. There is a museum dedicated to gold mining on the grounds where it is possible to see a gold-containing ore vein and see how real gold is poured into barrels. There are many attractions at Gold Reef City, including water rides and roller coasters. The live shows of Idols South Africa are filmed live in the "Hippodrome", a large auditorium based in the park. Gold Reef City is located to the south of the Central Business District off of the M1.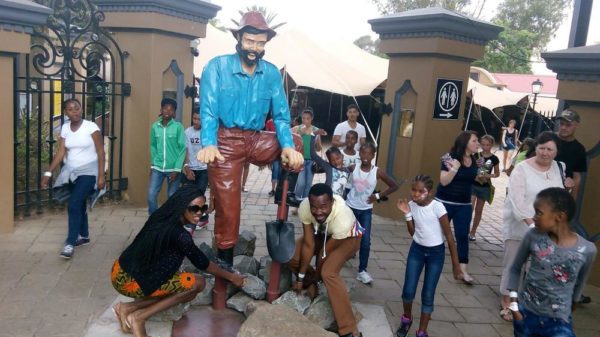 We were given a tour of the mine shaft, which was pretty cool, as we went 3200ft underground, which to be honest was nothing, as miners used to go as deep as 75,000 ft underground.
I must say, I seriously enjoyed my time at Gold Reef City, it was educational and fun, which is my idea of a swell time.  After this, it was a race back to the hotel room where the lovely MAC makeup artist, Annice was on hand to get me ready for the finale night of the Standard Bank Joy of Jazz Festival. After a great dinner at the Butcher's Shop at Michelangelo Towers(the prawns and the ribs were lush)…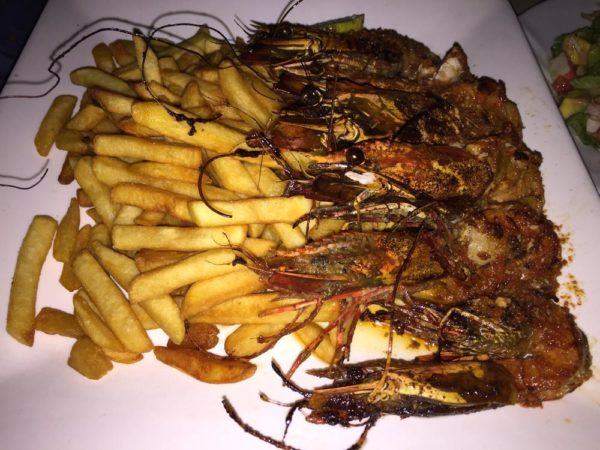 …it was time to boogie away to Marcus Miller and Peabo Bryson, and let me tell you, family, they certainly did not disappoint. The joy of Jazz festival was an absolute delight, and definitely a major highlight of the trip. Every single artist that took the stage gave a 150%, I was super proud to be African; the local jazz artists were fire! Saturday 26th September Whoop whoop! The big day finally arrived –  time for 2015 Africa Movie Academy Awards (AMAA).  We had just enough time for a quick breakfast before it was time to catch our flight to Port Elizabeth for the show.  After a 90 minute flight, we reached at our destination, and wow, Port Elizabeth was BEAUTIFUL. The scenic seaside town was as welcoming as it was beautiful, and I immediately felt at home.
Then, we arrived at the hotel, and mannnnnn, was it gorgeous. Special shout out to the Boardwalk Spa and Hotel, the décor was absolutely stunning. The décor was reminiscent of a modern opulent take on Little House Of The Prarie. My room was luxurious and beautiful, with a gorgeous inviting standing bath; I wasted no time slipping into the robe provided whilst I inspected my room like the lady of the manor.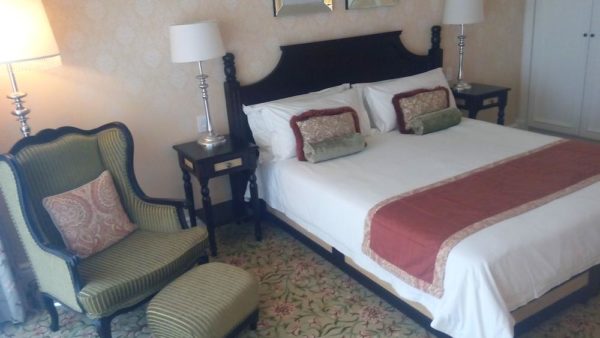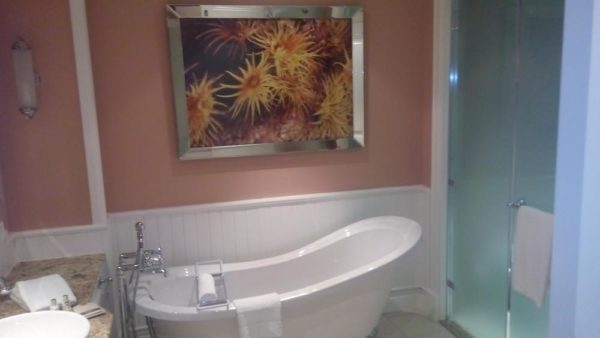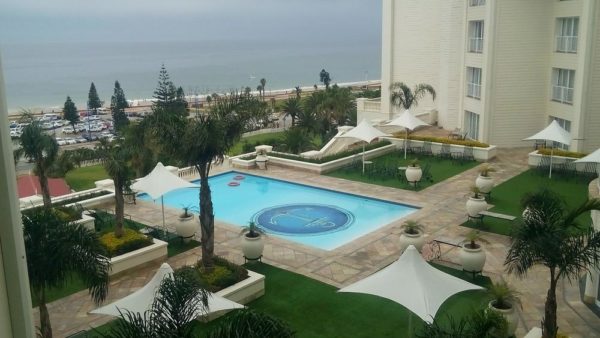 We took a quick trip to  Shoprite Mall for a brief dinner, before heading back to get dolled up the African Movie Academy Awards, aka AMAA.  AMAA was founded in 2005 by Peace Anyaim Osigwe, and is considered one of our more prestigious awards, I was especially excited, as Aunty Peace herself had requested I host their 10th anniversary Gala in 2014, so for me, it felt like a family event.
We were even more excited when we learnt that the awards were being held in the Boardwalk Convention Centre, right in the very hotel we were staying in. I was forced to do a celebratory twerk like a bawse, yeahhh! After getting dressed, I raced down to the red carpet, and began my official duties, after all when one of the biggest lifestyle blogs in Africa sends you on an official mission (you guys may want to cue that Mission Impossible track again), you take it seriously and get to snapping with the stars.  
After I was done with the red carpet, I was taken backstage to present two awards. I had been asked present the awards about a week before the event, but I hadn't received my email confirmation, so until I was bustled backstage, I wasn't entirely sure what categories I'd be presenting. Needless to say, as the professional noisemaker that I am, give me a microphone and a stage, and I'm happy.
After I was done presenting, It was back to work, I'd heard my egbon Omotola Jalade-Ekeinde was in the building, and I wasn't going to rest until I'd gotten a picture of her for the BN instagram.
Kcee was on hand to delight the guests with his special brand of Afro pop, and as soon as he was done, I dashed backstage. Lo and behold, who did I find? My egbon Omotola, with my new uncle Reze Bonna, about to go on stage and present their awards. Trust me, quick as a flash, I had gotten the money shot, and it was back to enjoying the show.
All the attendees had a really swell time, and we all agreed how beautiful the event was. It was truly a magical evening.
I want to take a moment to congratulate all the practitioners of African film and cinema, we still have a long way to go, but we are doing ever so well, all we need to do is to continue to pick up steam, and consistently improve the quality and content of our productions.
It'd been a long day, and my feet were killing me, and so it was time to get back to that room and that robe, lol.
Sunday 27th September
I was so sad to find out that due to the poor weather we'd been experiencing in Port Elizabeth, we would be unable to go sky diving. I was so disappointed, but oh well, until next time… I was so heartbroken, but I took advantage of the time to enjoy an easy day, resting,
I decided to enjoy a hearty breakfast and have a chilled out day.
It was lovely treating myself to a relaxing bubble bath. We concluded the night by having a small get together in Mohammed Kwajaffa's (Tradelations Manager of South African Tourism) room.
Monday 28th September.
I didn't even bother attempting to retire to bed last night, we had to be out at 4:30am to catch our flight back to Johannesburg, so it seemed pointless even attempting to sleep. It was so cold in Port Elizabeth that when we returned to the warmth of Joburg, I had to wonder if it was really the same country.
I had a magical 6 days in Johannesburg and Port Elizabeth, and felt very emotional leaving. I would happily recommend South Africa to anyone who's looking for a worthwhile holiday destination, I had a fantastic time and the people were lovely. I honestly can't say enough about the country, and will certainly be back very soon.
I had a fantastic time and the people were lovely. I may not have found my 6'6 Krav Maga expert in Sandton's financial district…but there's always next time.
***
I just want to say a huge thank you to Zed-Eye, Iconola, Ejiro Amos Tafiri and Bland 2 Glam for so kindly assisting on me on short notice. And to my Beauty Sponsors MAC, Marco and Annice, you guys were too good to me, so very appreciative of the love. Because of you all, apparently I dey fleek small for SA sha *shokis*.
Sincere thanks to South African Tourism, and most especially the good people at BellaNaija and Glam Brand Agency for giving me the opportunity to have a new experience, they do say the more we experience, the more we grow…
And to you guys, the patrons of BellaNaija, the beautiful BellaNaijarians, thank you for being with me every step of the way, and allowing me to be myself 100%. To all of you who showed me love on BellaNaija's social media platforms, I'm sending you even more love back.