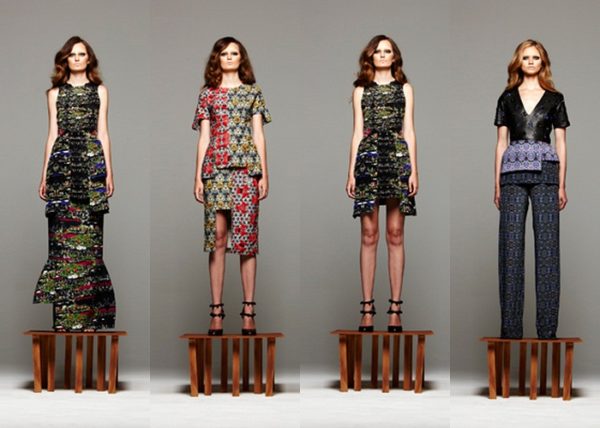 Fashion is beyond conceptualizing visually stimulating lookbooks and campaigns, complemented by intricately crafted story lines, the endgame should be business.  For the next three weeks, #HeinekenLFDW will present the 'The Fashion Business Series' to explore conversations around scaling the fashion industry to a point where it can significantly contribute to the nation's GDP.
In 2014, Nigeria was announced as Africa's biggest economy. The GDP was revised to £307bn. This number included revenues from Nigeria's newer business sectors, including its film, music, telecoms and e-commerce which had been previously been overlooked for more than two decades.
According to the National Bureau of Statistics, film and music constitute to 1.4% of Nigeria's GDP. This figure is a triumph if you consider that these industries have created their own processes and structures with little governmental support and less support from the private sector.
Sadly when discussing Nigeria's economic prosperity and potential, (fashion) retail, textiles or manufacturing has not been part of the narrative. In Nigeria's past textiles, fashion and manufacturing significantly contributed to the economy but due to a series infrastructural problems this sector waned.
If we look to other parts of the world, fashion serves as a key driver of the economy:
The global apparel market was valued at US$1.7 trillion in 2012 and employs approximately 75 million people.
Apparel and textile are among of the worlds largest industries. Total Global apparel exports are worth approximately USD 412 billion (2011) and global textile exports USD 294 billion
Why is this not the case in the Nigerian Economy? Fashion entrepreneur Bisola Edun of Tae says 'In terms of challenges experienced in the business over the years, one of them has been funding, I have to say that the right type of funding for this type of business is still not available' [1]
Fashion entrepreneurship pioneer, MD and Founder of Ruff 'n' Tumble, Mrs. Ogunlesi also reiterates, 'The Government does not in any way support the garment manufacturing industry. The infrastructural issues are so high that being competitive may pose a problem'[2]
However with adequate investment from the private sector and infrastructural support from the government, fashion can play an active part in the economy. Furthermore, fashion can create much needed wealth and jobs. Most importantly fashion entrepreneurs need to start focusing on the business of fashion because fashion is a business. Based on Mrs Ogunlesi's experience she says 'you need to have a good business plan and you need to set realistic goals for yourself. Sound business advice is absolutely invaluable; get strong mentors and learn from them.'
A business plan may sound daunting but it is really just an articulated vision that will help you strategize how to achieve both your creative and financial goals.
Keep the creativity but also widen the focus on the numbers, the sales, the distribution and the cash flow there is no reason why we cannot be a key player in the next 5-10 years.
Creativity in the Nigeria's fashion sector has shown that Nigerian designers are talented. They have been featured in Vogue, Paper Magazine, Fader, Vanity Fair and many more. Our creativity can stand next to the likes of Valentino and Louis Vuitton. Yet, creativity has never been our problem, the main problems are profitability and scale.
The past five years has seen the advent of several fashion designers, retailers, stylists, fashion blogs and platforms like #HeinekenLFDW. There is a burgeoning value chain and eco-system that is in place; the next step is to expand in scale and increase value at all touch points in the value chain.
Designers need to work towards cost effectively producing in greater volumes at affordable prices across segments. There needs to be more points of contact for customers to buy these clothes, more accessible shops and larger emphasis on e-commerce channels to reach millions of customers.
2015 has been a difficult year for the economy with the reduction in crude oil prices and the sharp rise of the dollar exchange rate. Nigeria can no longer afford to be a mono-economy. All options must be explored and invested in for Nigeria to reach its optimum economic potential. Unlike what is published in mainstream media, the fashion industry has many streams e.g. retail, e-commerce, textiles, manufacturing etc. Fashion goes beyond fashion shows and beautiful editorials. It is time to focus more on the business.
Do you think the Nigerian Fashion Industry can become a major player in the nation's economic landscape? Lets discuss! Please share your thoughts.
Article Sources
[1] Excerpt from Lionesses of Africa
[2] Excerpt from interview on Thisday Live
________________________________________________________________________________________
Ronke Adeola is the Project Manager of the Fashion Business Series – a platform that aims to create dialogue between those in the fashion and textiles sector, relevant government stakeholders and key members of financial services community. To contact Ronke, www.fashionbusinessseries.com or send an email to [email protected]