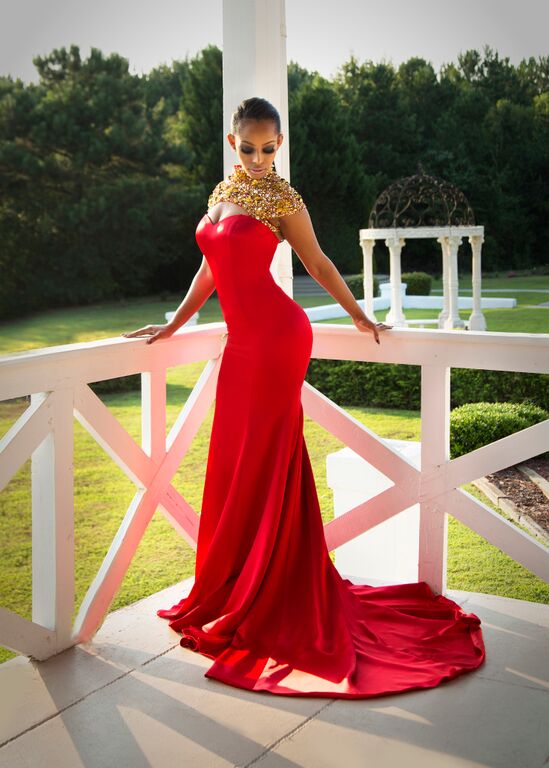 Nneka Alexander, a US-based fashion designer has stunned us in the past two years, with many of her custom creations, for brides and bridesmaids in these weddings in Nigeria and abroad, to mention a few – Karimot, Dunnie O, Ezinne, and her sister Uju.
With her new Bella Paradiso collection, she takes things up a notch, showcasing dresses for the classic bride, the 'celeb' side in all of us and for bridesmaids.
Here's what she has to say about her new collection,
"Bella Paradiso!" translated from Italian to English simply means "Beautiful Paradise!" In designing this collection, my biggest source of inspiration came from my personal reflections back to the many client consultations I had during the year.

As the clients entered into my studio they were amazed at what they saw. I couldn't forget the "oohs!", "aaahss!" and "wows!" as I showed off my designs and explained all the intricate details I put into my designs. It was almost as if they were lost in paradise for a moment. Then it hit me…"Paradise"…"Beautiful Paradise!"

The Bella Paradiso collection is designed for the exclusive woman who appreciates true luxury embodied in fine fabrics, intricate designs and immaculate bead work. I chose a garden setting with colorful flowers, beautiful greenery, pristine landscaping and all-round beautiful aesthetics to complement the gowns. The collection represents three specific categories of women as related to weddings and formal affairs –

1)The Bride: included in the collection are wedding gowns in a ball gown silhouette and a fitted silhouette, both with intricate embroidery and subtly embellished to add a touch of sparkle to the embroidered lace fabric and enhance its 3D effect.

2)The Bridesmaids: a short, fun and slightly whimsical skater dress adorned with colorful 3D floral appliques and a long, free-flowing silk chiffon gown on a fitted corset bodice decorated with gold floral lace appliques.

3)The Celebrity: here is where I put the Brides by NoNA signature to finish off the collection — heavily embellished gowns that bring the glitz and glamour to those extra special occasions.
Be inspired!
Credits
Gowns: Brides by NoNA | Nneka C. Alexander | www.bridesbynona.com | Address: Barnes Mill 3853 Felton Hill Road SW Smyrna, GA 30082 | For appointments, please send an e-mail to [email protected] or call (832) 573-8254
Photography: HD Photography | Holly Doughty | www.hdphotographyatlanta.com
Photostyling: Pure Elegance Wedding & Events | Simone Johnson | www.pureeleganceweddings.com
Location: Cha'le Gardens | T. Michelle | www.chalegardens.com Hair: Jasmine Nikol | Jasmine Nikol | www.jasminenikol.com
Makeup: Face by Maori | UD Ogene | www.facebymaori.blogspot.com
Bridal Cuffs: The Valentine Cuff | Darryl Wilson for Diann Valentine | www.diannvalentine.com
Models: Anna Oswald | [email protected] | Selam Shiferaw | email: [email protected]