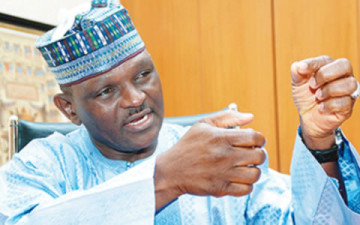 Hamza Al-Mustapha, a former Chief Security Officer to the late Head of State, Sani Abacha, has been compulsorily retired from the Nigerian Army.
According to Punch, his compulsory retirement, due to his unavailability in the army for over 14 years, while he was away to face trial over the murder of Alhaja Kudirat Abiola, wife of the winner of the June 12, 1993 presidential election, M.K.O. Abiola.
The publication saw a copy of the retirement letter, and it reads in part:
You are authorised to retain your substantive rank of Major. You are also entitled to gratuity and pension as well as Certificate of Military Service and Retired Officers' Identity Card. You are entitled to your ceremonial dress, service dress and mess kit. However, you should wear uniforms corresponding to your rank at the time of retirement only when you are invited for military ceremonies; military weddings; memorial services of National Day celebration and Regimental dinners.