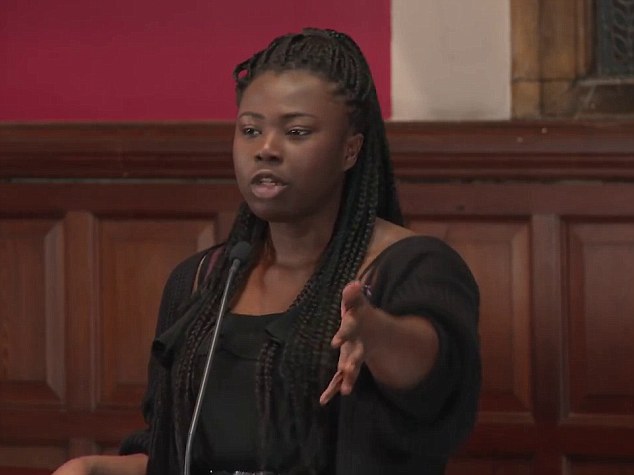 Oxford University LGBT Rights activist Annie Teriba is under major fire. The prominent student released a statement outlining 2 "non consensual sexual encounters", now her accusers have shared their alleged side of the story and it is damning.
They basically accuse her of rape.
The joint statement was released via a tumblr blog – http://niiwdel.tumblr.com
***
This statement contains information about rape and sexual assault and as such may be triggering in its content. Please take care when reading.
INTRODUCTION
This is a joint statement from two individuals (who wish to remain anonymous) about the Oxford-based activist and student Annie Teriba. We have co-written this statement because both of us have experienced sexual violence from her. She has now released a statement, but we felt we also needed a voice in this situation, especially as we have issues with the way she conducted herself throughout the process of apparent accountability. We wish to use our statement to shine a light on her behaviour, and to fill in the gaps and questions that have been left by her statement. We recognised that this statement is long, and we have used sub-headings to make it more accessible to read.
THE CONFRONTATION
It is important to begin with her response to being confronted by the survivor regarding the most recent incident. The survivor was initially dissociative following the incident and had blocked out conscious awareness of the trauma, which is a common reaction. The survivor then began to experience flashbacks, which eventually prompted them to confront Annie. She initially appeared shocked, but then explained that she was very drunk and that she had no recollection of any events from the night in which the incident took place. She then made a transphobic comment, and left in a flood of tears which centred the conversation on her reaction and her feelings, rather than those of the survivor. She then immediately messaged the survivor to explain that she was having trouble processing everything, without taking into account how they might be struggling too, and how sending messages like that can be damaging.
THE STATEMENT: WHY IT WAS REQUESTED, HER INITIAL STATEMENT, HER SUBSEQUENT DRAFTS, AND BEHAVIOUR THROUGHOUT THE PROCESS
After thinking about the next steps, the survivor then decided to get Annie to release a statement about what she'd done, and for her to resign from activist spaces and committee positions she held. The survivor's intentions behind getting Annie to write and release the statement were multi-faceted, but the important reasons were that it was imperative that she was held accountable, that she made a full admission of wrongdoing, that the people she organised and associated with were aware of what had happened, that she should no longer be allowed the privilege of a platform within activism, that safe spaces remained safe, and perhaps most importantly, that such an incident never occurred again.
We wish to highlight what has happened since the request for the statement was made by the survivors through intermediaries. Annie has been incredibly narcissistic, obstructive and harmful throughout the process of confronting her and holding her accountable for her actions. She has constantly attempted to centre everything on herself rather than consider the survivors and how she is impacting on them. We need people to know that the statement that was released on Friday the 9th of October was by no means the original statement that she wrote. We also need people to know that it took approximately 3 weeks from request to publish for the statement to be finally released, which shows Annie has been hell-bent on dragging out this ordeal for us. We'd like to take this opportunity to thank the intermediaries who have been extremely helpful and supportive throughout the process, as they too have had to deal with Annie's disruptive and self-centred behaviour.
Her initial statement was extremely inappropriate and hurtful. It read like a creative writing piece, poetically shifting the blame away from herself, and it was also rife with apologism and excuses. She literally did blame it on the alcohol and also tried to paint herself as the victim in an effort to garner sympathy. In addition to this, she also attempted to use the statement to educate others on the importance of consent and how to practice it, as well as accountability; the irony must have been lost on her. Not only was that disrespectful, it was entirely inappropriate. She made no real attempt to apologise, nor did she properly explain the reason(s) why she was resigning from political activism. She also used the statement to try and normalise her behaviour and humanise herself despite being a perpetrator of violence. The statement was very clearly an attempt from her to practice damage control on her image, portraying herself as responding in the politically ideal way, and glamorising herself for being 'cooperative' during the process. This is particularly offensive, because despite appearing so confident in herself for responding so well to being confronted, she was clearly neglecting the fact that she had already been through a mediation process due to sexual violence before.
This instance happened last year, where Annie assaulted one individual in a nightclub. The survivor spoke to a mutual friend who set up a mediation. They spoke, agreed on some terms (including Annie going to consent workshops, doing reading, learning more about consent and not having sex with anyone until she'd done all these things.) The survivor thought this had been resolved well initially. They then heard Annie had had sex with a friend of theirs shortly after, which seemed in contradiction to the agreed terms, although they did not have the energy to follow it up. And it has now become clear that Annie did not change her behaviour, nor make sufficient efforts to do so.
The whole process has been retraumatizing for us and she has placed many barriers throughout, which have elongated this ordeal and seriously affected our mental health. She has attempted to disempower the survivors with malicious intent. The survivors were forced to explain to her why her initial statement was unacceptable after which she was instructed to start from scratch and provided with guidance on what to include. She described one of the incidents in detail in an early draft of the second statement when she was specifically asked not to, which caused the survivor to become triggered. She has made herself uncontactable at points when drafts of her second statement were sent back to her with revisions because some of her wording was unacceptable. She has demanded her own voice by accusing the survivors of "putting words into her mouth", whilst not giving pause to think how her actions have stripped us of agency. She has used drafts of her second statement to claim that she "genuinely believed" her actions were consensual, after having told one of the survivors that she was so drunk she cannot remember any of what happened. She is lying in one instance then, and knew that the survivor had to tackle that inconsistency whilst reading the subsequent statement.
A NOTE TO CLARIFY WHY "RAPE" WAS NOT USED IN THE STATEMENT
We want to clear up why the word "rape" wasn't used in the published statement. This paragraph should be taken as an explanation rather than an excuse for the rape apologism contained in Annie's statement. We are both feminists who believe that non-consensual sex must be labelled what it is: rape. In the original drafts of both statements, the word 'rape' was included in the trigger warning, and was later on included in the first paragraph of the second statement, as the survivor was very insistent about this. Annie initially made herself unreachable following the revised statement being sent back to her, and the survivor was later told that she was reluctant to use the word "rape" anywhere in the statement after having sought legal advice. The survivor was told from intermediaries that if the statement contained the word "rape", the police would be prompted to investigate, and that there would be potential legal implications for all parties involved. Whilst both the survivors had limited knowledge on such legal implications, Annie had the upper hand with more knowledge due to prior events at Oxford, so we reluctantly decided to compromise and allowed for the word "rape" to be omitted, because we did not want the police to get involved. Whilst we absolutely believe she must be held accountable, we have little faith in the police and 'justice' system, and we are sadly all too aware of how very few rape and/sexual assault cases actually result in convictions. Reporting rape & sexual assault can be very difficult, intrusive and triggering- all at the risk of not achieving the desired outcome. This is also why the survivor of the most recent incident did not report it to NUS staff, despite it occurring at an NUS conference, as it is likely the police would have got involved. In addition to this, each survivor has their own vision of what justice looks like for them; for some, justice looks like their perpetrator being behind bars, but for us, this means not getting the police involved, and we ask that our wishes on this matter are respected. However, let's be clear: Annie Teriba is a rapist. After having experienced flashbacks and connecting to their conscious memory, the survivor was able to piece together the events in a more coherent manner, and would like it to be known that Annie Teriba committed two counts of rape in the most recent incident her statement refers to.
THE DANGER OF GLORIFYING ACTIVISTS
Since the mediation following the incident last year, Annie has taken up many platforms to challenge sexual violence and rape culture- particularly in Oxford (http://www.bad-housekeeping.com/2014/07/21/rape-where-is-the-reform-we-were-promised/), whilst not challenging it within and from herself. We find it particularly ironic that she has been a prominent voice against the very actions she herself has committed. There is a real issue amongst feminists and The Left in general of putting individuals on a pedestal, and we believe that Annie has absolutely been placed as such, and appears to exercise no sensitivity in the way she takes up space.
We also wish to make a point here about how certain individuals have reacted since being disclosed details of the incident(s) by the survivors. Annie is a prominent activist, particularly within Oxford but also among students and activists nationally, and it seems her feminist values and politics have made it harder for those who know her to believe the survivors. These individuals have reacted with shock and disbelief, and whilst it is natural, some individuals have centred things on their reactions rather than focusing on the issue at hand, which has been emotionally difficult for the survivors. As mentioned earlier, Annie had been put on a pedestal in activist spaces, and was vocal on a number of issues, however, it is dangerous to misconstrue an individual's politics with their character. We need to seriously address the way social capital is accorded to activists in our spaces, because when people feel they are a good enough activist for their actions to be excused or ignored, things like this happen.
HOW TO SUPPORT US AS SURVIVORS
Whilst we recognise that it may be a jarring experience for friends of Annie, we urge you to consider and prioritise the experience of survivors. This statement and these processes are one of accountability, not exclusion- as we both believe in transformative justice. Whilst we fully support those who may no longer feel safe to have her in spaces, there are those of you who will not want to entirely turn your back on her. We urge you to hold her accountable; in Annie's statement, she listed what steps she will be taking, and although it's her full responsibility to do so, you can also make sure she adheres to her promises.
We were very disappointed in the initial comments that were made on Annie's Facebook following the release of the statement. Some individuals were congratulating her for admitting to wrongdoing and apologising. It is completely unacceptable to prioritise perpetrators over survivors, or glorify them for admitting to their mistakes and/ or committing to seeking help. In addition to this, we'd like to condemn the right-wing individuals who have been sharing her statement in an effort to politically point-score and/or detract from anti-racist campaign work that Annie has done.
CLOSING REMARKS
Having supported survivors before, we are all too aware that the community often turns a blind eye to such issues, but we urge you to not greet violence with silence. We must not harbour or protect rapists in our spaces. We cannot call ourselves feminists, activists or even friends if we do not put our morals into practice and stand by survivors. We ask that you share this statement as widely as possible to help amplify our voices.
We'd like to offer our support and solidarity to all the other survivors who may have also experienced assault or rape from Annie, or indeed other perpetrators. We'd urge you to seek the support you might need, and have included some links that might be useful:
http://www.rasasc.org.uk/
http://rapecrisis.org.uk/
http://www.respectphoneline.org.uk/