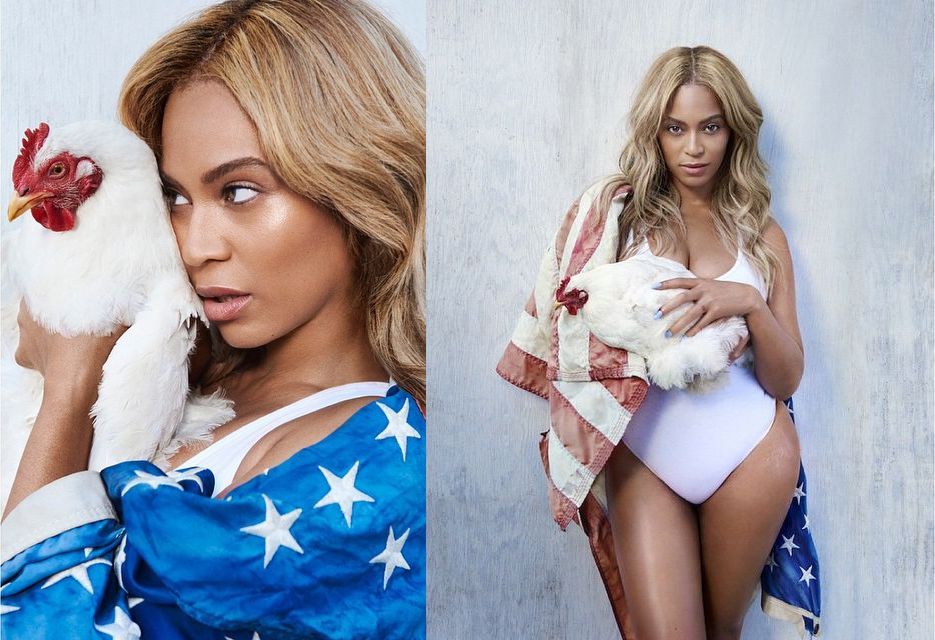 A few days ago we shared the cover of BEAT Magazine's new issue for Winter 2015 featuring Beyoncé and her hot patriotic self. And we've got great news – more photos from the magazine's editorial.
In the photo sequence, we see Queen Bey hoisting the American flag high, while rocking a hot swimsuit with the words "BEAT" written in front. She also holds a chicken. We're not sure what that's for , but okay…it's Beyoncé.
The mega star must really like the shoot – she announced the editorial on her Instagram page with a line from her popular hit track 'Yoncé'. She commented "I sneezed on the BEAT and the BEAT got sicker" 🙂
For the magazine's new issue, she also did something she hasn't done since 2013 – she gave an interview. No, she didn't disclose if she's expecting baby no.2 or if JayZ is running for President. She did however share some very personal details about her life. So for those die hard #BeyHive members out there…
Beyoncé on what fear taste like
Success. I have accomplished nothing without a little taste of fear in my mouth.
On which Beyoncé era she'd  go dressed as for Halloween
Destiny's Child Survivor era with the army fatigues. Or maybe Bootylicious with the gold tooth and pink tips in my hair.
Does Beyoncé Netflix or does she Chill?
Netflix and chill
What she sings in the shower
Holy Ghost by Kim Burrell
With photography by Ryan McGinley, check out more images from the spread below;
To see more images from the shoot, visit TheBeatJuice.com