Leave it to Zendaya to set a magazine straight.
Modeliste Magazine recently debuted the 19-year-old star as their new cover girl, with a fab editorial shoot to boot. After sending images from the shoot to the young singer/actress, she noticed she wasn't exactly looking an identical portrayal of herself. Apparently the magazine had gone a bit too far with the retouching skills and altered her photo, giving her hips and making her lighter. And Zendaya was not having it.
She called out the magazine by posting this message on her Instagram page;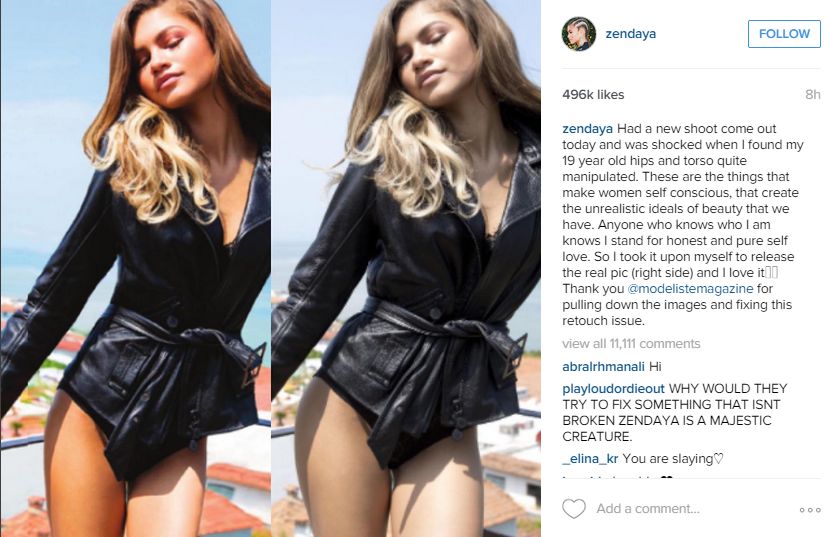 "Had a new shoot come out today and was shocked when I found my 19 year old hips and torso quite manipulated. These are the things that make women self conscious, that create the unrealistic ideals of beauty that we have. Anyone who knows who I am knows I stand for honest and pure self love. So I took it upon myself to release the real pic (right side) and I love it."
The magazine must have seen Zendaya's post and taken down the retouched images, as she ended the Instagram PSA with –
"Thank you @ModelisteMagazine for pulling down the images and fixing this retouch issue."
A lot of her fans have been commending the actress for standing up for what is right and exposing the magazine. However, there are a few who think she could have handled it better by speaking with the magazine privately.
What are your thoughts?
Photo Credit: @Zendaya | (Instagram)