It's been an apologetic few days for the South African branch of popular retail company – Woolworths.
They have been under fire from South African customers for a window display. Customers claim the black dolls tied together with black ropes on their necks and wrists depicts slavery and are demanding it be taken down.
A Facebook user reached out to the brand via Facebook, and pointed out the "insulting" depiction, stating it "suggests they promote such barbaric acts against humanity."
The store responded – "You've got a very valid point. We've contacted our store installation team and will get back to you as soon as we can."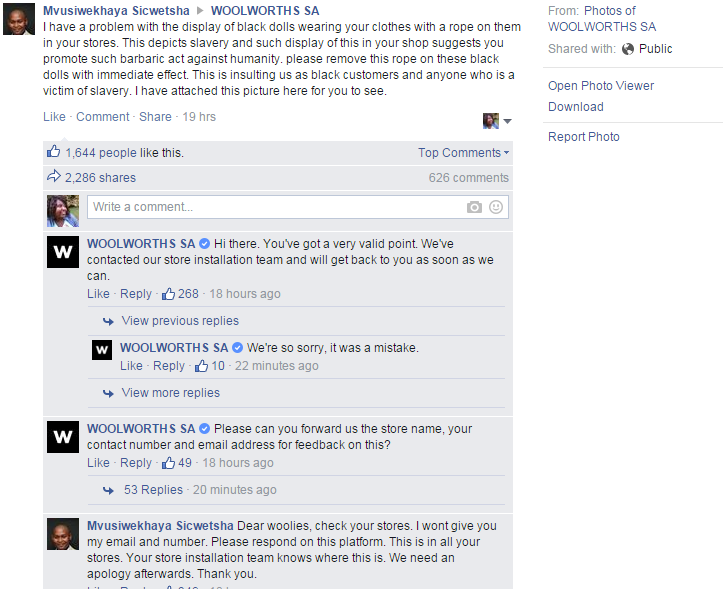 However, it seems their apology didn't come soon enough. Other social media users who also came across the image and display in the store took to their Facebook & Twitter accounts to express their displeasure. They posted;
In the midst of the storm, Woolworths posted an apology on their official Facebook page saying;
Hi everyone

We apologise for the distress caused by an incorrectly assembled RE: in-store installation.

At the start of any campaign, our stores are taken through the creative direction for installations via a 'model store' set up. This festive season's installation is supposed to hold Christmas baubles suspended off ropes, being supported by the mannequins. One store implemented the installation incorrectly, using the rope without the Christmas baubles.

The mannequins used in RE: displays are made from recycled materials which is why they are naturally grey in colour; they don't represent a particular race.

As soon as we became aware of the error yesterday afternoon we contacted the relevant team to make sure the mistake was corrected as soon as possible. The offending display is now fixed.
Do you think the customers are overreacting or are their thoughts justified? Share yours.
To view the original article, visit Citizen.co.za.