Dr. Ngozi Okonjo-Iweala's press team has shared this;
For the past week, Edo State Governor, Adams Oshiomhole and other compromised persons and media have embarked on a campaign of falsehood against Dr Okonjo-Iweala. They have distorted the contents of the January 20 memo in which she responded to a request by the former National Security Adviser and quoted selectively from the document to make their false allegations of "illegal diversion" of funds.
For your information and a fuller understanding of the issues, please see the attached January 20 memo by Dr Okonjo-Iweala as published by some online sites. It confirms that Dr Okonjo-Iweala is a transparent person of integrity and patriotic professional who worked hard to protect the interest of the country and that her accusers are purveyors of falsehood on a political mission to tarnish an innocent patriot.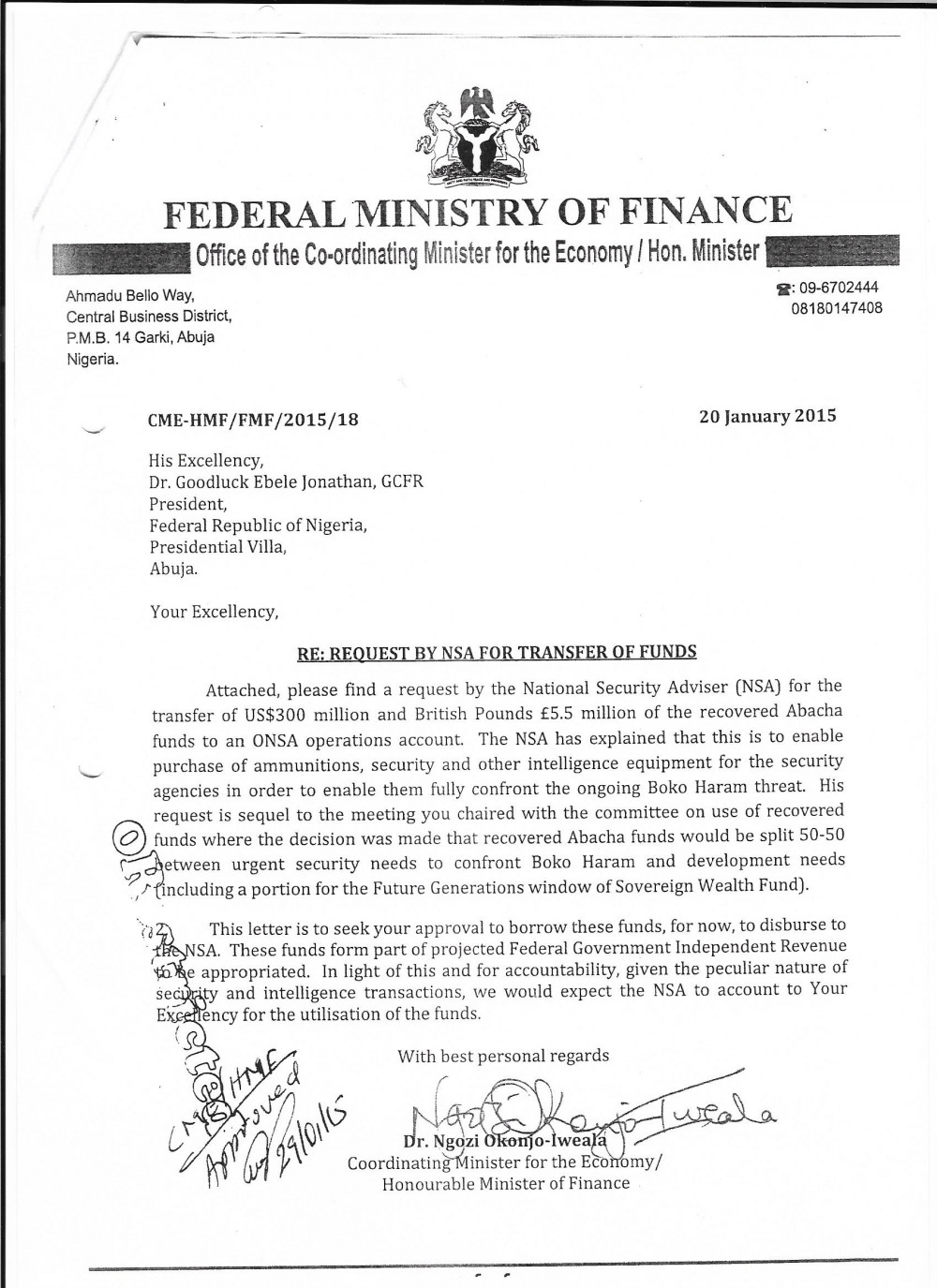 Background
Former National Security Advisor Sambo Dasuki is currently being investigated for illegally "diverting" funds meant for arms deals to beef up National Security and fight Boko Haram. This week, an investigative report by Premium Times alleged that "Ngozi Okonjo-Iweala, illegally approved the transfer of at least N61.4 billion ($300 million and £5.5 million) from funds recovered from late dictator, Sani Abacha, to the Office of the National Security Adviser, Sambo Dasuki, few weeks to the 2015 presidential election"
They went on to say that
"The former Minister signed off on the transfer but then closed her eyes to how the funds were spent, requesting then President Goodluck Jonathan to directly demand accountability from Mr. Dasuki, according to documents seen by this newspaper."
The former Minister of Finance/Coordinating Minister of the Economy has denied the allegations.
Portions of the memo which allegedly outlines the signoff have been online for a few hours and now the full version has been released by NOI.