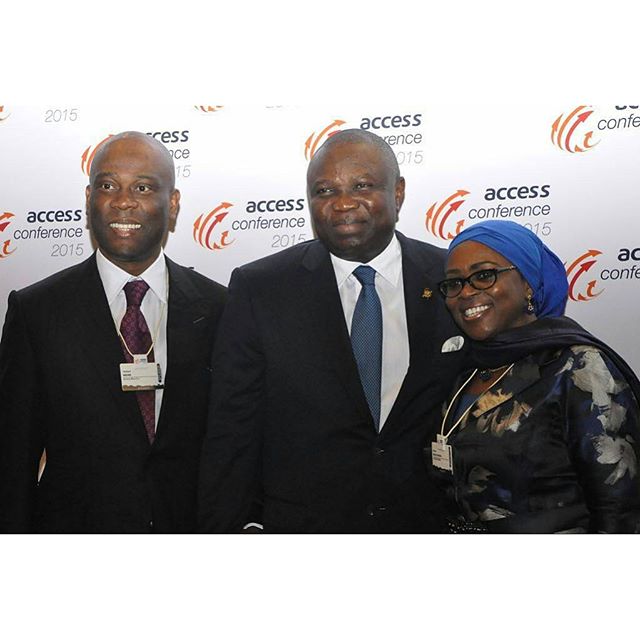 You can watch the ongoing Access Conference 2015 LIVE here on BN.
So far, we have watched a speech by Access Bank CEO/GMD Herbert Wigwe and Lagos State Governor, Akinwunmi Ambode. Also at the conference are Chris Hughes (Facebook Co-Founder), Steve Wozniak (Apple Co-Founder) and Tony Fernandes (Air Asia Founder and CEO).
Click HERE to see a full list of speakers.

Programme
Opening with National Anthem
08:45 – 08:55
Keynote Address
Welcoming Remarks
08:55 – 09:00
Keynote Address
Opening Address
09:00 – 09:30
Master Class
Mapping Innovation
This eminent speaker helps guests of the Access Conference to visualize innovation and understand what it is all about. With the drama and urgency of a sports commentator, he makes data come to life! No better way to get a sense of the speed of innovation and connect the dots…
09:30 – 11:00
Panel Discussion
"How to Break the Status Quo": Defining Innovation and How It Comes About
Innovation is difficult! A group of prominent and renowned innovators from different backgrounds and various fast-growth economies discuss the essential attributes of innovation. They reveal the strategic, organizational and behavioural factors that separate successful innovators from the rest.
11:00 – 11:40
Interview Session
A Conversation on "Entrepreneurship and Innovation"
Aspiration and the desire to do something entirely new are two powerful engines of innovation. When in 1962 President Kennedy declared that the US would "go to the moon in this decade", he motivated a whole nation to achieve something that seemed impossible, but which was attained through unprecedented levels of innovation.
An eminent speaker epitomizing this twin power of aspiration and desire, discusses with an innovative leader how a far-reaching vision can become a compelling catalyst for innovation.
11:40 – 13:10
Panel Discussion
What is coming next? An introduction to Future Digital Trends
The innovation of the digital world is happening at a frantic pace with new businesses constantly disrupting those that are established. This panel discusses what this means and the extent to which the digital age is revolutionizing industries across the globe.
13:10 – 14:15
Break
Networking Break
14:15 – 14:45
Interview Session
A Shared Vision of What It Takes To Lead When Times Get Tough
In a fast-paced, dynamic conversation, two policy-makers who were and are at the sharp end of decision-making explain what it takes to make bold decisions in complex and uncertain circumstances.
14:45 – 15:30
Panel Discussion
"How Can Social Media Help Elect a President?"
For Barack Obama in 2008, social media was a massive success: he used it to engage young voters during his presidential campaign, which led to him being dubbed the first "social media president" after his victory. Two eminent practitioners discuss how, today, social media can sway opinion and mobilize the younger generation. They also argue constructively about how politicians can cope with being constantly under the microscope.
15:30 – 16:45
Panel Discussion
Innovation in the Financial System
Changes within the financial industry epitomize just how disruptive innovation can be. Every single element that composes the financial system is changing radically, from the general – how monetary policy is conducted – to the particular – how banks' operations are adapting to discontinuous change. This panel discuss what the bank of tomorrow will look like.
16:45 – 17:00
Interview Session
A Conversation on "Building an African Banking Powerhouse in Turbulent Times"
In our VUCA world (VUCA stands for volatility, uncertainty, complexity and ambiguity), it is not easy to build sustainable organizations, particularly when so many decision-makers feel overwhelmed by the magnitude of the task. A top business leader and a prominent policy-maker discuss how to best rise to the challenge.
17:00 – 17:45
Panel Discussion
Protecting Individuals and Businesses
One of the most prominent cyber-security experts and a former top-intelligence official explain how to protect ourselves in the modern day, as well as how to show leadership through a security crisis and cope under pressure in a fast changing world.
17:45 – 18:10
Award Ceremony
The W Awards – Recognizing our Leading Lights
18:10 – 18:25
Keynote Address
Concluding Remarks
18:25 – 18:30
Keynote Address
Closing Remarks
Photo Credit: @akinwunmiambode