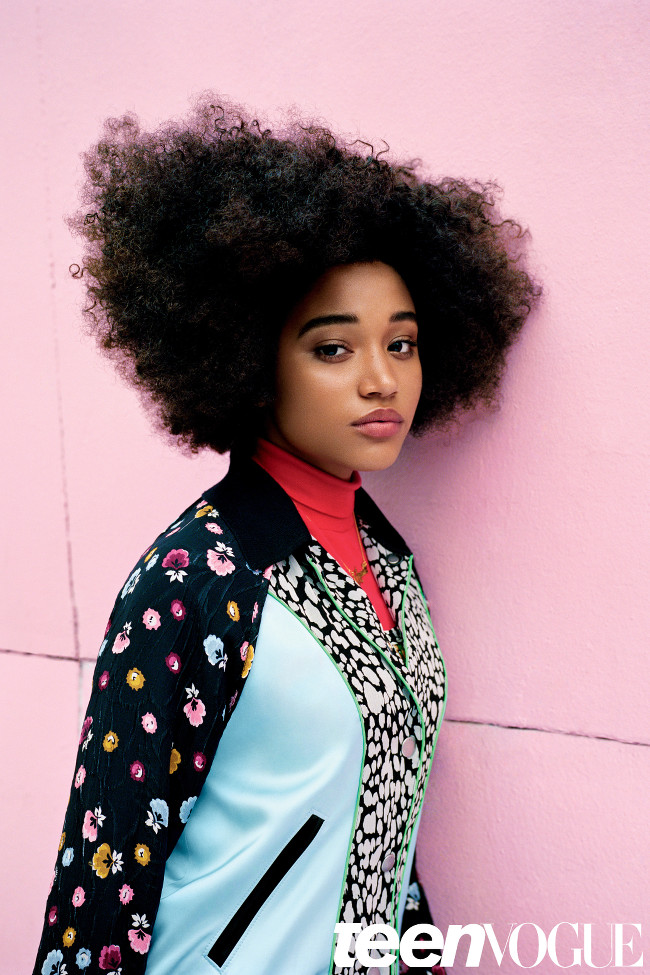 When we first got introduced to young black actress, Amandla Stenberg, she was the young Rue, who battled alongside Jennifer Lawrence in The Hunger Games Part 2. Prior to that, the world got a whiff of her strong voice and character after her video – Don't Cash Crop by Cornrows – went viral.
After that moment, her name was added to the list of young African/American women revolutionizing the walls of African/American beauty today.
For the February 2016 edition of TeenVogue, Amandla sits with fellow Black beauty reformer, Solange Knowles for an interview between 'sistas'. In a few minutes they touch on race, Natural Hair, cultural appropriation, being a black actress, the machine that is Hollywood and more.
'Read excerpts from the interview and see shots of Amandla for the magazine below;
***
On being called the 'N-Word' and realizing she would have to take a stand as a Black actress in Hollywood
It was when I was 12 and I got cast in The Hunger Games, and people called me the N-word and said that the death of my character, Rue, would be less sad because I was black. That was the first moment I realized being black was such a crucial part of my identity in terms of the way that I was perceived and how it would affect any line of work that I wanted to pursue. I often find myself in situations where I am the token black person. It can feel like this enormous weight. I have definitely had moments when my hair felt too big or like I needed to make myself smaller.
Smaller and easier to digest. And that's still something that I struggle with now, you know? But I think, honestly, social media has changed that in a lot of ways because in the past you could look only to movies or TV or music or celebrities in order to feel like you had representation. Now you can go on Instagram and you can see a girl who looks like you who is killing the game and expressing herself. Just being able to see that is so affirming.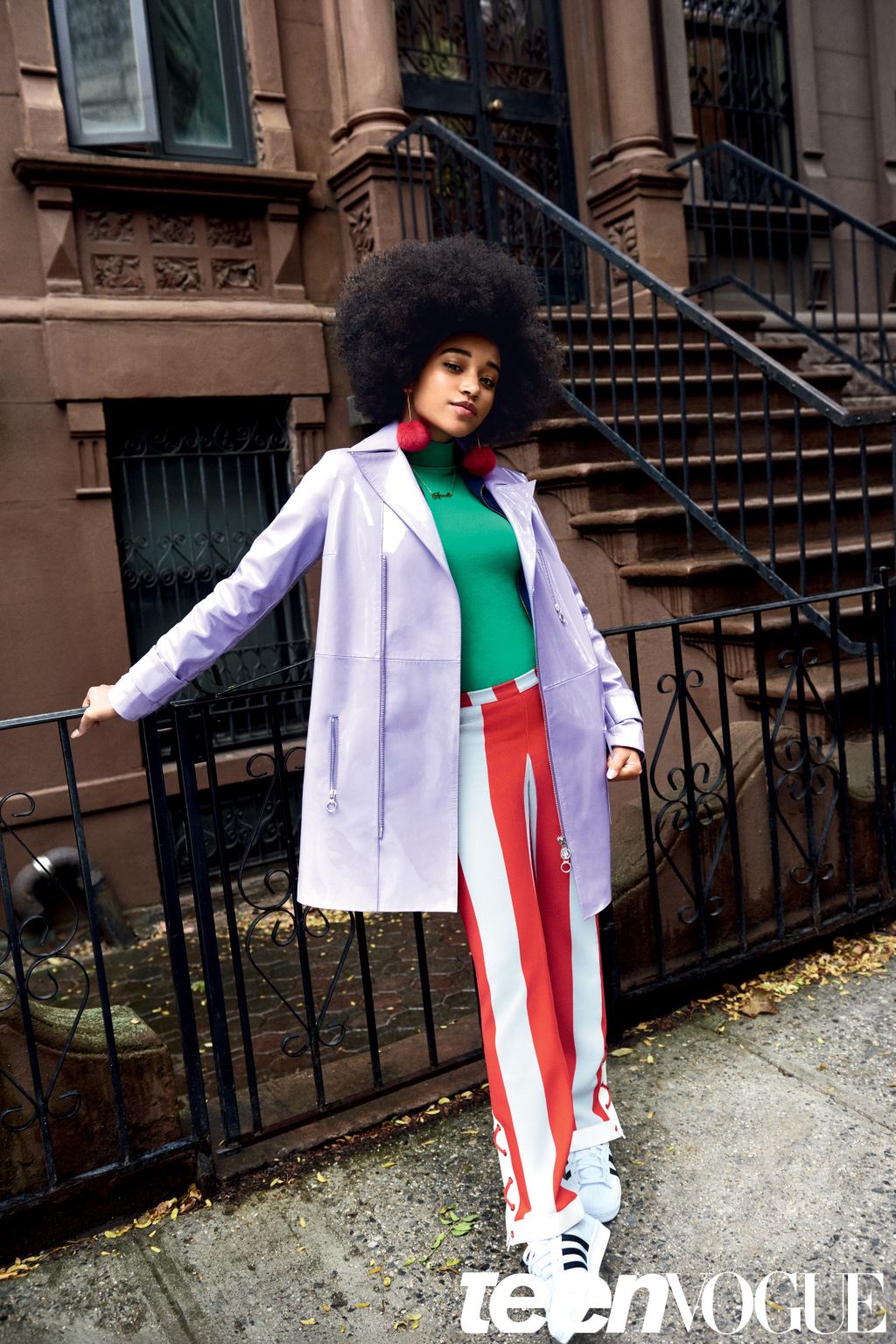 Does she get tired of discussing the topic of natural hair?
Yo — yes! It's so funny. I have many white friends who come up to me and they're like, "Amandla, so this weekend I'm going to go out, and I was wondering if it's OK if I could wear cornrows just on Saturday?" [Laughs] I'm tired of talking about who can have whichever style. Because I've said my thing.
But I'm not tired of talking about hair in the sense of it being an empowering thing. I know when I used to chemically straighten mine, I did it because I wasn't comfortable with my natural hair. I thought it was too poofy, too kinky. So for me, personally, when I started wearing it natural, it felt like I was blossoming because I was letting go of all the dead hair and all the parts of me that had rejected my natural state. But, you know, it's not like that for all black girls. Some have their hair straight because that's just how they like it, and it doesn't mean that they accept themselves any less.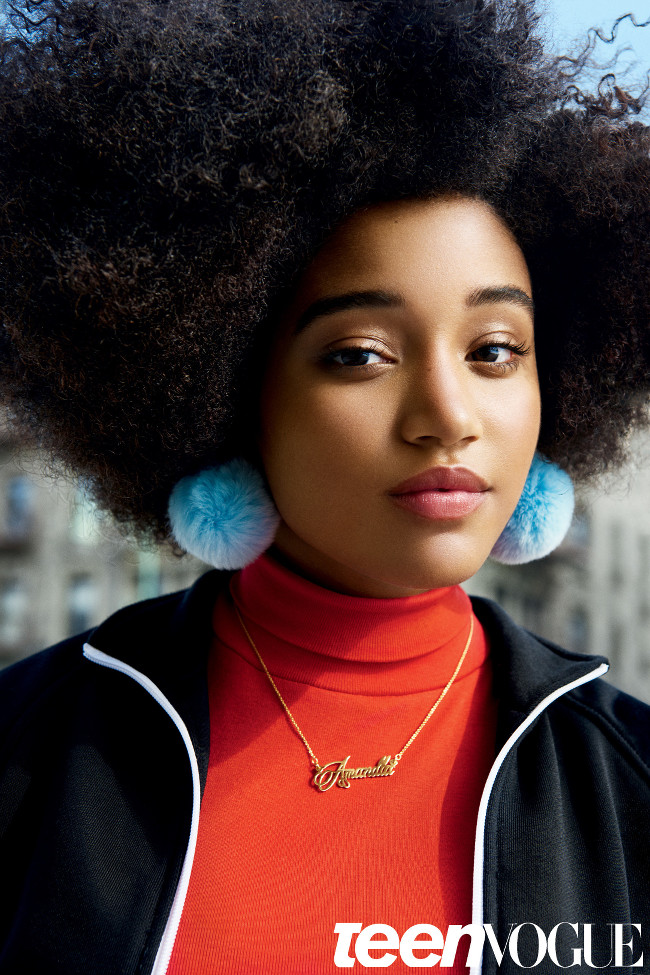 On being friends with Willow Smith, Lorde, Tavi Gevinson, Kiernan Shipka…
Oh, man. Well, Kiernan has been by my side since the beginning. Willow is amazing. I feel like we were just meant to be friends. We were kind of vibing off each other from afar, and then she hit me up and was like, "Let's hang out!" She has the most magnetic, radiant energy ever. Whenever we hang out we just laugh and we sing and we dance and we go hiking. And then Tavi — I was the biggest Rookie fan since forever. I checked it daily, hourly. Then Rookie asked me to do an interview, and now Tavi is one of my closest friends. We talk about everything and bounce ideas off each other; I send her some of my scripts, and she sends them back. I have a friend who has this thing called "shine theory," which basically says that when you become friends with other ?powerful, like-minded people, you all just shine brighter.
Read more from the interview on TeenVogue.com.