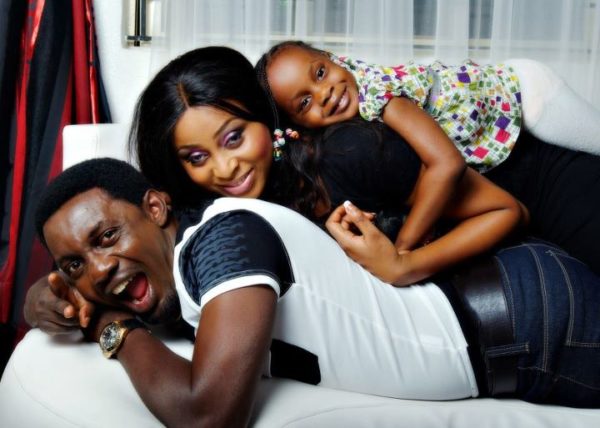 A couple of hours ago SDK exclusively reported that the 8-year marriage of ace comedian and entertainer AY Makun to his interior decorator wife, Mabel Makun was over.
Naij.com instantly reached out to the comedian via a phone call and according to their website "The comedian said he does not want to join issues with Stella Dimokokorkus and that since she has all the details of his marriage breakup, she should tell it all. The comedian who is also an actor and movie producer said it is only unfortunate that Nigeria is a country where you cannot sue for damages."
AY Makun also posted on Instagram "Some blogs are, for the most part, the bringers of bad news… and it's not entirely the bloggers fault, bad news gets higher ratings, travels faster and sells more than good news. The reality is that you will continue to hear negative information from many sources against anything that showcases your blessings and pride. Gossip is just a tool to distract people who have nothing better to do from feeling jealous of those few who are still remaining in the institution called 'Celebrity Marriage' . It lies in our will to decide whether to discard them into the waste bin or record them into our brains!. The question is… whose report will you believe? #Hisreportsaysiamfree #Hisreportsaysvictory #Hisreportsaysweareblessed #wecastandbind #prayfortheonesyoulove"
OAP Freeze has also waded into the drama.
He posted a photo of the couple on Instagram and captioned:
I sincerely hope and pray that what I am hearing is false. You guys are my favorite couple. AY is my brother and Mabel is my sister. I remember being angry with Mabel for eating my bush meat once and she made it up by cooking the most delicious owo soup with starch for me and as for AY he is one of my best friends in the industry.

He is a brother in every way. He is kind hearted, loving, caring, intelligent and well mannered. You guys are not good together, you are GREAT together in fact FABULOUS TOGETHER and you both know it. THE DEVIL KNOW THIS FACT AND WOULD WORK HARD TO BRING DISHARMONY. Please don't give him the chance. Mabel the keys to your home are in your hand and I am sure of your love for this genius. I also know AY loves you. Gisting less than 3 weeks ago he told me he loves you 120% and I teased him endlessly over this, calling him Mr Loverman in Shabbas voice. I love you guys and know we will smile at the end of this alleged storm. ❤#AyMabelForLife
AY and his wife got married in 2008 and they have a daughter together.
UPDATE: Stella has now clapped back, saying the story is 100% true, and the only reason she's coming out to say it is so it won't affect her credibility.
She wrote;
Today I reported exclusively that Comedian AY Makun's lovely wife Mabel had moved out of their Lekki home and I did not know if it was a permanent move or not….That story you can take it to the Bank and even though i tried not to disclose the shocking details narrated to me on why it crashed,the Comedian has called me out asking me to help him reveal the details and that he does not want to "join issues' with me.

The only reason I am responding to this Clap back is because it puts my job on the hot seat.
Let me state here Categorically that MY STORY IS TRUE and i take no Joy in reporting such News,just that what must be told must be told.

You laugh at others when their News is out but when it gets to yours it becomes a problem?Excuse me!

I choose to leave the dirty details of what happened for you to tell your fans on your social media handle.If you are embarrassed that the story has been posted,then i understand but your beautiful wife packed out of your house with a big truck and she took everything take-able and your house is currently under lock and key…unless she returns this night.

Instead of dragging or fighting dirty with you,I pray that God restores your Union and gives you the wisdom of Solomon to act right.
Some Blogs will not be bringers of bad news if you do not produce the bad news!
If you are talking about gossip,you produce and distribute it too so why call out your colleagues?Why have you been phone crashing with friends on the way forward?Didn't your "F" President friend do all he can to beg WIFEY to stay?

I will not help you launder your dirty story online,Don't let the devil use you to call me out AY,you have Jesus' number,use it!

Whose report to believe? God's report!…The one that will deliver you from your chronicle of blah blah!
#I am out!